NICOSIA, Nov 27, 2010 (AFP) - Asian Football Federation (AFC) president Mohamed Bin Hammam on Saturday strongly denied reports that he had agreed to back the Spain-Portugal bid to host the 2018 World Cup.
The head of the Qatari football federation had been quoted in Spanish daily Marca as saying that he would vote for the Iberian bid to host the tournament when FIFA's executive committee convenes in Zurich on December 2.
However, he told AFP by telephone on Saturday that no interview with the paper had ever taken place.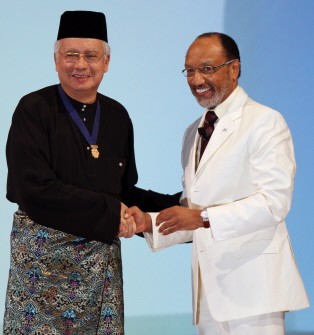 Recepient of AFC Diamond of Asia, Malaysian Prime Minister Najib Razak (L) shakes hands with AFC President Mohamed Bin Hammam (R) during the Asian Football Confederation (AFC) Annual Awards 2010 ceremony in Kuala Lumpur late on November 24, 2010. AFP
"I never spoke to any newspaper or media about the bidding for the 2018 World Cup," he said. "What was published... is totally false."
In a report on Friday, Marca quoted Bin Hammam as saying that "Asia supports the Iberian bid" but denying there was a pact between the two bid teams.
But Bin Hammam, whose country is bidding to host the 2022 World Cup, dismissed the report, calling it "a blow below the belt".
"At the meetings of the executive committee of the Asian confederation, and the last one that was held on Wednesday, we agreed to give the four Asian members freedom in selecting the country that they deem appropriate," he said.
"No decision was taken to back one country."
He described Marca's report as a "hidden war against Qatar's bid" to host the World Cup in 2022, aimed at "disrupting its (Doha's) good relations with the other countries bidding for the World Cup".
FIFA last week cleared the organising committees behind the Spain-Portugal and Qatar bids after accusations of collusion between them in the voting process.
Spain-Portugal is competing with England, Russia and another joint bid from Belgium and the Netherlands in the race to host the 2018 World Cup.
Qatar's rivals for the organisation of the 2022 event are Australia, Japan, South Korea and the United States.