WELLINGTON, Nov 19, 2010 (AFP) - A senior Oceania Football Confederation (OFC) official suspended over allegations of World Cup vote-selling on Friday protested his innocence and vowed to appeal the "harsh" ban.
Football's governing body FIFA barred OFC executive committee member Ahongalu Fusimalohi from football for three years and fined him 10,000 Swiss francs (10,000 dollars) following an investigation into the claims.
The OFC's president Reynald Temarii was also banned for a year and told AFP after hearing the FIFA inquiry's findings -- handed down in Zurich on Thursday -- that he too planned an appeal.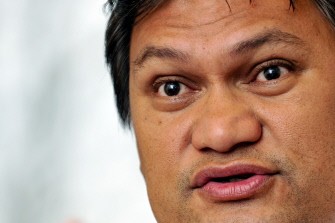 Oceanian football chief and FIFA vice president Reynald Temarii speaks during an interview with AFP on November 18, 2010 in Zurich. AFP
Fusimalohi, the Tonga Football Association general secretary, said he was stunned when he heard about the FIFA decision in the early hours of Friday morning.
"I was really surprised, I didn't expect a decision of that nature," he told Radio NZ.
"It's a decision that I think far outweighs the allegations that were levelled at me... I'm at a loss, I intend to file for an appeal."
British newspaper The Sunday Times alleged Fusimalohi sought 100,000 US dollars from undercover journalists to support one of the bidders for the 2018 World Cup.
The Tongan official said the allegations were false and he had told FIFA investigators that comments he made to the journalists were taken out of context.
"The recordings in that interview, which is (in) my submissions, proves that the allegations were false," he said.
"It points (that) out clearly, the interview, because a lot of it was taken out of context, so I don't understand how the decision came back that serious and harsh."
Fusimalohi's punishment was one of the heaviest imposed by FIFA's ethics committee on the six officials implicated in the newspaper sting that prompted the inquiry.
The committee has not provided details of its findings against Fusimalohi, an ex-journalist who last month said he knew the undercover reporters were fakes and he played along to try to find out what they were up to.
The OFC said FIFA had cleared Temarii of corruption and found him guilty of minor infringements, including breaching confidentiality.
"We will respect any decision Mr. Temarii takes to pursue the appeal process that is open to him," the OFC's acting president David Chung said in a statement.
Temarii had been accused of demanding three million New Zealand dollars (2.3 million US) to set up a sports academy in Auckland in return for his support.
Temarii, a former player for French club FC Nantes, represents Tahiti and has headed the OFC -- which consists of Pacific island nations and New Zealand -- since 2004.
The Tahitian Football Federation declined to comment on the suspension.
The OFC was unable to say whether or not Fusimalohi had also been cleared of corruption.
With two of its top officials suspended, the Auckland-based OFC said the six remaining members of its executive committee would meet on November 27 to discuss the FIFA findings and decide its next course of action.
Temarii was Oceania's sole representative on FIFA's executive committee and his suspension means the region will have no input when the vote deciding the hosts of the 2018 and 2022 World Cups is taken on December 2.
"There are 210 nations in FIFA and for the first time not all of them will be represented," New Zealand Football chief executive Michael Glading told the New Zealand Herald.
Australian media said it was a blow to the country's ambitions to host the 2022 World Cup as Temarii had guaranteed his support for the bid.
"With Temarii suspended, Australia will now go into the voting knowing it will have one less vote," The Australian newspaper said.
Football Federation Australia on Friday refused to comment on FIFA's actions, but said it was "very confident they will come up with the right options".
Australia, which received a highly favourable report from FIFA's evaluation committee this week, is competing against the United States, South Korea.