Vietnamese football fans enthusiastically welcomed the national team back to Ha Noi Thursday, one day after the players beat Thailand 2-1 in the first leg of the ASEAN championship's final in Bangkok Wednesday.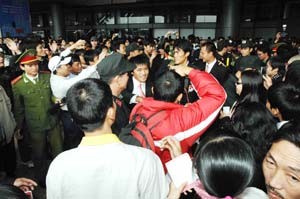 The crowd surround the Vietnamese team at Noi Bai Airport, Ha Noi on Thursday (Photo: SGGP)
Thousands of fans gathered at Noi Bai Airport to show their thanks and support for Portuguese-born coach Henrique Calisto and his players.
The coach told media that he and his boys were trying to forget the game in Bangkok to focus on the second leg this Sunday at My Dinh National Stadium.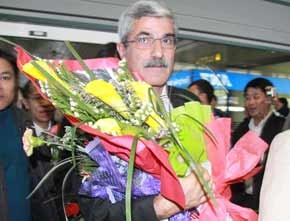 Vietnam coach Henrique Calisto is welcomed back at Noi Bai Airport with flowers (Photo: SGGP)
The regional championship, now called AFF Suzuki Cup, started in 1996 and took place every two years. Singapore and Thailand won the title three times each. This time is the second time Vietnam have played a final. The first time, they lost 0-1 to Singapore in Ha Noi in 1998.
This Sunday, the Vietnamese will play a second final in Ha Noi for the trophy. Despite of Thailand's defeating in Bangkok, English coach Peter Reid said he and his players still have chances in Ha Noi.
At present, Vietnamese fans pin the highest hope for the regional title as they have witnessed their team having worked so hard and having demonstrated admirable spirit over the past three weeks.
In Thailand's Phuket, they lost 0-2 to the hosts in the Group B opener, then beat Malaysia 3-2 and Laos 4-0 to go through to the semifinals. They then played three-time champions Singapore in two games, winning 1-0 on aggregate. Now, they are holding a win over three-time champions Thailand before the last match.
Therefore, local fans all expect the first-ever trophy for Vietnam in ASEAN championship history. They know that their team are not champions yet.
In November in Ha Noi, Reid and his men drew Vietnam 2-2 in T&T Cup, a tournament held to help the teams prepare better for the AFF Suzuki Cup.