DOHA, Jan 24, 2011 (AFP) - Japan captain Makoto Hasebe says his side do not feel burdened by the pressure on them to succeed at the Asian Cup, as the Blue Samurai gear up to tackle South Korea in the last four.
Reaching the last 16 at last year's World Cup for the first time on foreign soil confirmed Japan's place at global football's top table and they arrived in Qatar as one of the favourites.
There have been wobbles en-route to the semi-finals, such as the 1-1 draw with Jordan in their opening game or the last-minute goal required to beat Qatar 3-2 in the quarter-finals.
But Hasebe says his team's performances are not affected by expectations of success back home.
"It is a good pressure," he told the official tournament website.
"The players have been changed for this tournament but we still carry the country on our shoulders. We have both pride and responsibility.
"I'm carrying the country on my back. It's pressure, yes, but not in a bad way."
Hasebe also praised the impact of Italian coach Alberto Zaccheroni, who took up the Japan reins after Takeshi Okada stepped down last year.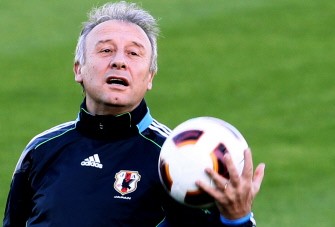 Japan coach Alberto Zaccheroni plays with the ball during a training session at the al-Ahli club in Doha on January 24, 2011. AFP
"He's been in charge three or four months now," said the 27-year-old Wolfsburg midfielder.
"Not only tactically but other things have been changed a lot from the previous manager."
Japan may be on the brink of glory in the immediate future, but Hasebe says the current regime has more long-term targets in mind as well.
"This team is aiming for the Brazilian World Cup (in 2014) so new players and young players are coming in and we are in the first period of this change," he said.
"The future is very bright for Japan. This team at the moment has a lot of young players so I feel the potential for the next World Cup.
"The South Africa World Cup encouraged Japanese football.
"We had a great result during that tournament, so we have another expectation, which is to reach the next World Cup. I'm very much looking forward to going to Brazil."
Japan, bidding for a record fourth Asian Cup title, face South Korea on Tuesday, with the victors to meet either Australia or Uzbekistan in the final on January 29.