Extremist fans of Vietnamese League clubs Hai Phong and Song Lam Nghe An fought violently at the Vinh Stadium of the latter after the two teams drew 1-1 in their Sunday match.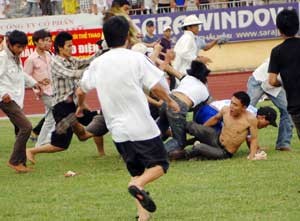 A scene during the Sunday battle caused by hooligans at Vinh Stadium (Photo: SGGP)
The visiting club netted to equalize in the last minutes of the game. After that, Nghe An hooligans threw many objects towards groups of Hai Phong fans, triggering a ferocious battle that began right after the final whistle. The fans of the visiting club were besieged inside the stadium and under attack in more than an hour.
Many of them were wounded. More police officers were sent to the stadium to protect Hai Phong fans though many police personnel were deployed in the stadium before the game.
The match finished at around 17:30 but as late as around 20:00, the security force managed to escort Hai Phong fans outside the stadium. On the way home, one of the buses carrying Hai Phong fans ran over a Nghe An fan near the stadium, and the victim died.
This was the second time in the season Nghe An hooligans have attacked fans of a visiting team. Not long ago, they attacked fans of The Cong Club, also inside the Vinh Stadium.