TOKYO, Oct 7, 2011 (AFP) - Japan laboured to a 1-0 win over Vietnam on Friday in a scrappy friendly ahead of the Asian champions' World Cup qualifier next week.
Japan dominated the game in the first half with star midfielder Shinji Kagawa going close before the home side took a 25th minute lead through striker Tadanari Lee.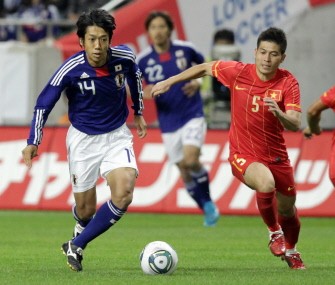 AFP - Japan's midfielder Kengo Nakamura (L) and Vietnam's midfielder Nguyen Minh Chau (R) fights for the ball during the friendly game.
But Vietnam fought back in the second half with sharp counter attacks while Japanese substitutes squandered scoring opportunities.
The Blue Samurai pulled off four Europe-based stars fpr players keen to prove themselves ahead of Tuesdays's home World Cup qualifier against Tajikistan.
The move almost backfired two minutes into the second half, after Vietnam midfielder Nguyen Trong Hoang stole the ball and rushed towards goal only to have his shot blocked by goalkeeper Shusaku Nishikawa.
The Vietnamese looked increasingly threatening, moving the ball quickly, while star striker Le Cong Vinh had a close range header saved by the impressive Nishikawa.
Japanese substitute striker Genki Haraguchi threatned the Vietnam goal with fast dribbles and shots from the middle range, but failed to find the net.
After the game, Japan coach Alberto Zaccheroni said: "We wanted to test players whom we have not been able to use. We saw poor continuity."
Voicing his frustration Lee admitted the performance was poor ahead of a crucial week for the Blue Samurai.
"It was good that we won. But we need to improve our game," he said.