LONDON, Jan 29, 2010 (AFP) - England and Chelsea defender John Terry was named on Friday as the sportsman behind a gagging injunction involving his private life.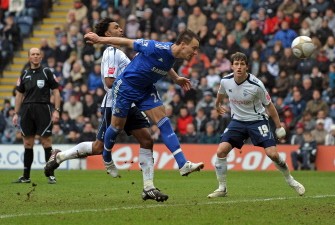 John Terry (2nd R) during the FA Cup fourth round football match between Preston North End and Chelsea at Deepdale Stadium, Preston on January 23, 2010. AFP PHOTO
Terry's identity was revealed after a judge gave his reasons at London's High Court for lifting the order which he originally granted at a private hearing last Friday.
It covered the alleged relationship between "LNS" - as married Terry was referred to in court - and another woman.
It also covered details about the relationship, including certain specific consequences, information leading to their identification and any photographs. Justice Tugenhadt was told that News Group Newspapers - publishers of tabloids The Sun and News of the World - wanted to publish a story about the footballer last Sunday.
The judge said: "I do not consider that an interim injunction is necessary or proportionate having regard to the level of gravity of the interference with the private life of the applicant that would occur in the event that there is a publication of the fact of the relationship, or that the applicant can rely in this case on the interference with the private life of anyone else."
Terry, 30, who is expected to captain England at the World Cup finals this year, is married and has twins.