DOHA, Jan 29, 2011 (AFP) - Asian Football Confederation president Mohamed Bin Hammam on Saturday stepped up his rhetoric against FIFA kingmaker Sepp Blatter, saying term limits must be imposed on the presidency.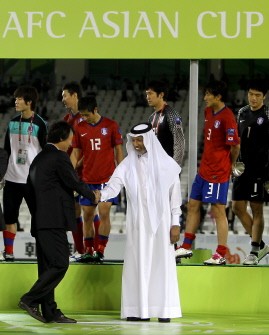 AFC president Mohammed bin Hammam (C) congratulates South Korea's coach Cho Kwang-Rae after his team beat Uzbekistan in their 2011 Asian Cup football match for third place at Al-Sadd Stadium in the Qatari capital Doha on January 28, 2011. AFP
But the Qatari sidestepped questions on whether he will challange the aging Swiss for the top job in elections this year.
Blatter has been in the most powerful job in world football since 1998 and has made it clear he will run for another term in June for what would be his fourth stint in office.
Ahead of a press conference culminating the Asian Cup Saturday, Bin Hammam said he would not be taking questions on whether he will challenge the 74-year-old.
But he made clear FIFA should have term limits.
"Yes naturally," he said when asked on the term limits.
"I believe that's the right way for FIFA to restructure itself. I dont want to answer any questions about the FIFA elections.
"But I think, and correct me if I'm wrong, that people today are complaining a lot about how FIFA runs itself as a business.
"It is not just term limits that need to change, but a lot of changes are needed to FIFA practices, its office business.
"A term limit will facilitate the rotation of power within the organisation." he added.
"I've said in the past that changing, or limiting, the mandate for the president will allow new people to come into power and the new people can bring new ideas and thoughts and push the organistion ahead."
He added that he feared anyone in the job too long would would become more concerned with how "we protect how we sit in that seat" rather than looking to drive the organisation forward.
Bin Hammam is himself in his third term as AFC president and confirmed it would be his last.
"Yes, this my last term as AFC president. I'll be ending my presidency in 2015, this is a decision I made when I took over in 2002," he said, adding that whoever takes over must be dedicated to football, not the power the job brings.
"They must be coming to give and not take," he said.
"They should not be thinking about what they can gain from the AFC - not just monetary gain but political gain.
"It has to be about what they can give to the AFC. This must be the most important criteria for an AFC president."