ROME, March 11, 2011 (AFP) - AC Milan will aim to put Champions League heartbreak firmly behind them this weekend when they focus on maintaining a five-point lead atop Italy's Serie A against lowly Bari at the San Siro.
Milan gave a much improved performance from their first leg efforts as they dominated possession, albeit far from Tottenham's goal, at White Hart Lane on Wednesday.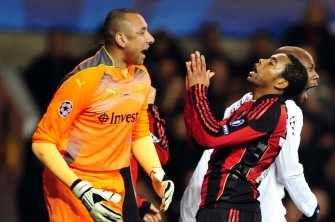 AC Milan's Robinho (R) and Tottenham's Heurelho Gomes (L) react at the end of the UEFA Champions League match Tottenham Hotspur vs AC Milan at White Hart Lane Stadium in London on March 9, 2011. AFP
Even so, they failed to breach Spurs' stubborn rearguard as they paid for their 1-0 first leg defeat three weeks earlier.
It means Milan have only the league and Cup to concentrate on now as they have failed to reach the Champions League last eight for the fourth year in a row since triumphing in 2007 -- in 2009 they did not even qualify for the competition.
Milan will be expecting to see their five-point lead shaved as Inter are due to travel to second-from-bottom Brescia on Friday night.
And the players recognise they must quickly overcome their European disappointment.
"We went there (to Spurs) to qualify but it didn't happen. We're all a bit sad, we gave a lot but we couldn't find a goal," said French midfielder Mathieu Flamini.
"Now we have to look forward and go and win the title. The Champions League was one of our objectives but it went badly.
"We have another big aim and that's to win the title, our number one priority."
Milan are in great shape in that respect having beaten rivals Napoli two weeks ago, all but knocking them out of contention for the league title before earning a hard-fought 1-0 success at fellow giants Juventus last week.
That loss hit Juve's Champions League hopes hard, leaving them in seventh but 10 points off fourth-placed Lazio with just 10 games to play.
Juve have lost their last three games and seven of the last 11, virtually ruling them out of contention for Champions League football next season.
They face a trip to Cesena on Saturday night with their hosts looking to keep their heads above water as they sit only goal difference above the drop zone.
In Juve's absence, the fight for a top four spot will be played out at Rome's Stadio Olimpico as Roma host Lazio in the capital derby.
Having recovered a little of late, in the league at least, following four straight defeats Roma managed three games on the trot without loss before their Champions League capitulation at Shakhtar Donetsk on Tuesday.
That 3-0 reverse saw Roma eliminated 6-2 on aggregate and Lazio president Claudio Lotito is wary that his side will be up against a wounded lion as they try to defend their five-point lead over their city rivals.
History is on Roma's side, however, having won the last four derbies and Lotito says his team must avoid getting caught up in the hysteria of the occasion.
"It's always a special match against Roma but we need to try to consider it like any other," he said.
"The lads need to show determination, humility and unity, that's the only way we'll be able to give our best against a wounded opponent."
In other games third placed Napoli travel to Parma while fifth-placed Udinese can move into a Champions League qualification position if Lazio slip up and they win away to Cagliari.

Fixtures (1400 GMT unless stated):
Friday
Brescia v Inter Milan (1945)

Saturday
Cesena v Juventus (1945)

Sunday
AC Milan v Bari (1130), Cagliari v Udinese, Catania v Sampdoria, Chievo v Fiorentina, Genoa v Palermo, Lecce v Bologna, Roma v Lazio, Parma v Napoli (1945)