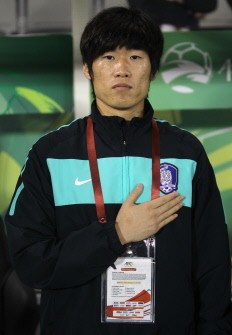 Park Ji-Sung listens to his national anthem on the bench during the Asian Cup match for third place between Uzbekistan and South Korea on January 28, 2011. AFP
DOHA, Jan 28, 2011 (AFP) - Manchester United midfielder Park Ji-Sung has retired from international duty with South Korea after winning his 100th cap, national coach Cho Kwang-Rae announced on Friday.
Park, 29, reached the milestone in his team's penalty shoot-out defeat by Japan in the Asian Cup semi-finals in Qatar this week.
But he was left out of the squad for Friday's 3-2 victory over Uzbekistan in the third-place play-off match, with Cho saying he did not want him to pick up an injury.
Cho praised Park, his captain, and former Tottenham Hotspur defender Lee Young-Pyo, 33, who had already announced his own decision to bow out from international football after 127 appearances.
"I would like to say something about Park Ji-Sung and Lee Young-Pyo," said Cho.
"From today they are going to be retired from their national football careers. I want to say they did a remarkable job for Korean football and I want to say I have loved working with them."
He added: "It would be better if I could keep both of them in the national team but they have done an excellent job in international football and I'm sure the Korean fans would like to congratulate them for all their hard work."
Park refused to confirm his retirement immediately after the game, saying he would hold a press conference in Seoul on Monday.
"I'm going to say when I'm back in Korea. I will have a press conference and will talk then," he said, adding that he felt the Korean team showed great promise.
"At the moment the young players are very talented and skilful, their technique is great," he said.
"They just need some experience and I think this tournament has been very important for them in terms of that.
"I think some of the players can go to Europe and gain experience there, then they will be even stronger than now."
Asked what the future held for him, he replied: "My future? I will try to do my best at my club and just do what I can to help them win everything."
Lee said it had been a pleasure to play alongside Park.
"I wanted Park to play for his country a little more but there must be something personal in his mind so we should respect his decision," said Lee.
"He sacrifices himself for the team. The younger generations will remember him sacrificing himself for the team and his love of football."
Born in Seoul, Park began his career playing for Myongji University before moving to Japan with Kyoto Purple Sanga, helping them win the Emperor's Cup.
He made his international debut in 2000 and when Dutch coach Guus Hiddink moved back to the Netherlands after Korea's stunning 2002 World Cup run to the semi-finals, Park followed him a year later.
He made 63 appearances for PSV, scoring 13 goals, and when they reached the semi-finals of the 2004-05 Champions League his talents were recognised by astute Manchester United manager Alex Ferguson, who signed him in July 2005.
Since then he has helped United win three consecutive Premier League titles and became the first Asian to play in a UEFA Champions League final, only to see his side lose to Barcelona in 2009.
Park played at three World Cups, scoring in each tournament.