BERLIN, April 25, 2011 (AFP) - Schalke 04 hot-shot Raul is relishing facing Manchester United's Ryan Giggs in Tuesday's Champions League semi-final as the two veterans, with a combined age of 70, eye one more European triumph this season.
Unfancied Schalke have surprised themselves by reaching the last four of the Champions League for the first time in their history by knocking-out holders Inter Milan in the quarter-finals.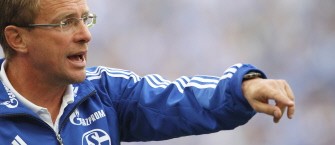 AFP - Schalke's coach Ralf Rangnick
Now the Premier League giants stand in their way of a place in the final at Wembley stadium on May 28 which would be Raul's first appearance at the famous north London ground.
But first the Spaniard's Schalke team must negotiate the two-legged semi-final with the return at Old Trafford on May 4.
One of the sub-plots of the last four clash will be the confrontation between veterans Raul, 33, and Giggs, 37.
Between them, the pair have 176 Champions League appearances, 98 goals -- of which Raul's 71 are the tournament record -- and five winners' medals.
Raul has an enviable record against the three-time European champions, having netted against them four times in three games for Real Madrid.
The striker was the scourge of Inter with a goal in each game of their quarter-final encounters, while Giggs put paid to Chelsea with three fine assists in United's 3-1 aggregate last-eight win.
Raul says he has enormous respect for both ever-green United stars Giggs and 36-year-old Scholes.
"Giggs and (Paul) Scholes are players for whom I have an enormous admiration," Raul told the Daily Mail.
"What we have in common is that we love this profession. Football is our lives.
"They are great professionals who look after themselves and who train properly.
"For Giggs to still be playing at this level at 37 years of age is incredible. I would love to swap shirts with Ryan Giggs after the game. It would be a great honour to have that shirt."
Like Giggs, Raul's longevity is impressive.
He has played all 31 of Schalke's Bundesliga games this season, making 44 appearances in all competitions and scoring 18 goals.
He has been a revelation in his first season in Gelsenkirchen after joining Schalke on a free transfer from Real and wants to score against United to help him make that first appearance at Wembley.
"I'd never scored against Bayern Munich and I scored against them in the (German) Cup," he explained.
"I went to San Siro and scored against Inter, which I'd never done. I've never been to Wembley - which is one of the stadiums I'd love to go to."
The reason Raul has been able to play so much this season is he has been relieved of the commercial commitments he had at Real and, like Giggs, has always shunned the showbiz lifestyle.
"I am more relaxed now," he said. "At Real Madrid, I had a lot more responsibilities.
"Now I don't have to worry about anything else, I can concentrate on getting on with my team-mates, training and playing."
While Giggs hails the benefits of yoga as the reason he is still playing, Raul says his focus on football has kept him fresh.
"My life has always been about playing and all the rest of it did not really interest me," he said.
"I came to realise that when you don't do those other things, you save your energy for what counts and what you really love to do, which is playing.
"Then your career goes that bit longer."