GELSENKIRCHEN, Germany, March 10, 2011 (AFP) - Schalke's three-times Champions League winner Raul admitted he was delighted to be in the quarter-finals again when his side reached the last eight with a 3-1 win over Valencia - 4-2 on aggregate - on Wednesday.
The 33-year-old Spain veteran, who won the Champions League with Real Madrid in 1998, 2000 and 2002, added that they would enjoy themselves against whoever they drew in the quarter-finals.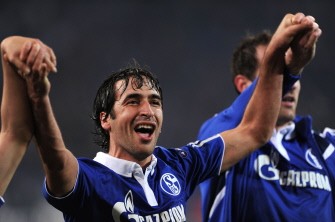 Schalke's Raul celebrates with his teammates after the match Schalke 04 vs FC Valencia. AFP
"That was a hard game, but was well balanced," said Raul, who is in his first season at Schalke.
"At the end we also had a bit of luck.
"I am overjoyed, because it is also something special for me.
"We need to see who we get in the quarter-finals, but it doesn't really matter, it will be a party for us."
Having last reached the last eight of the Champions League in 2008, Schalke booked their berth after goals either side of half-time by winger Jefferson Farfan and striker Mario Gavranovic.
The hosts fought back after Valencia took an early lead through Ricardo Costa.
"It was hard to apply pressure from the start, but after going 1-0 down we had nothing to lose," said Schalke coach Felix Magath.
"We just had to go for it."
There was a difficult build-up as the hosts woke to reports in the German media that Magath will leave the club at the end of the season at the latest.
"The background to this game is of no interest to us, the truth was out there on the pitch," said Magath in reference to the headlines.
"It's not interesting for me what the papers say.
"I have a contract until 2013."
Magath, who has won the Bundesliga as coach of both Bayern Munich and VfL Wolfsburg, has steered his team to this season's German Cup final in May and now the last eight of the Champions League.
But the Royal Blues have had a disappointing Bundesliga campaign and are currently 31 points adrift of leaders Borussia Dortmund.
The Schalke faithful have begun to despair of the authoritarian Magath, but there were only smiles after the win over the Spaniards.
Schalke's chairman Clemens Toennies refused to comment on reports Magath's days are numbered.
"I look forward to a great game (in the quarter-finals)," he said.
"We will issue a statement later - in the next few days, not today."