Paint company 4 Oranges, a sponsor of Vietnamese football, is preparing to make a trip to Laos this December for Vietnamese fans to support Vietnam's Olympic team in the 25th Southeast Asian Games.
Company marketing director Chalermsak Pimolsri said the trip would be for over 200 fans, who will gather in the central city of Vinh late November and arrive in the Lao capital of Vientiane early December before the Olympic team start their SEA Games campaign.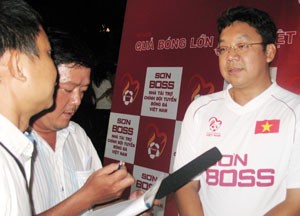 Chalermsak Pimolsri of 4 Oranges (R) speaks to media about what his company doing to support Vietnamese football (Photo: Minh Tuong)
The trip is part of a nationwide program the paint manufacturer launched in July to collect one million signatures from fans in Vietnam for the Olympic team in the Games. Boss Paints is the company's brand associated with the support campaign.
The program organizers have brought a huge composite ball, six-meter high and 1,200 kg in weight, through the provinces of An Giang and Gia Lai, and Danang City to collect signatures.
The next stops will be Dong Nai Province and Ho Chi Minh City in the south, Haiphong and Hanoi in the north, and Vinh. From Vinh, the ball will group with Vietnamese fans to go to Laos, where the ball would be put in stadiums where Vietnam's Olympic team will play.
Chalermsak Pimolsri said the organizers have collected more than 300,000 signatures, and more efforts are being made to receive more signatures.
During the campaign, boards are also set up at stadiums nationwide to collect signatures. Fans can also sign on printed sheets available at the paint company's outlets, while a website on the campaign will be launched on Oct. 1 to further publicize the program and to receive online signatures.
Chalermsak Pimolsri said VND500 million (almost US$29,500) is his company's bonus for Olympic Vietnam if they win the SEA Games gold medal.
Vietnam coach Henrique Calisto and his Olympic training squad the Games started their overseas training session in China's Kunming on Sep. 17. They will practice there 10 days before returning to Hanoi.
The Portuguese tactician said Vietnam's goal was to win at the SEA Games.
The national squad under Calisto won the ASEAN Cup for the first time in December last year.