Danang City, home to the new Vietnamese League champions SHB Danang, on Saturday welcomed the country's biggest ball on its nationwide tour to collect one million signatures to support the Olympic team in this December's 25th Southeast Asian Games.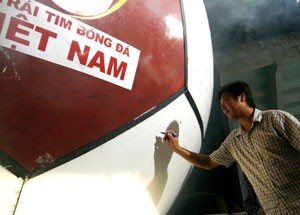 SHB Danang coach Le Huynh Duc signs on the giant ball on the Aug.15 night in Danang (Photo: Hai Nam)
The day the giant composite ball, six-meter in diameter and 1,200 kg in weight, started receiving fan's signatures was also the day Danang fans celebrated their club's championship title, the first since 1992.
SHB Danang coach Le Huynh Duc, a former star striker, and all Danang players signed on the ball in the celebration night.
Ambassadors of the signature collection campaign such as singers Pham Anh Khoa and Hoang Hai, and famous comedian Nhat Cuong also put their signatures on the ball in Danang. Vietnam Football Federation vice chairman Duong Vu Lam and Mr. Le Nguyen Hong, deputy director of the Danang Department of Culture, Sports and Tourism joined this signing.
The ball is staying more days in the central coastal city before moving to Long An in the south in early September.
Paint company 4 Oranges, a sponsor of the Vietnam football team, is a co-organizer of the nationwide campaign, which is set to end in October.
During the campaign, boards are also set up at stadiums nationwide to collect more signatures from fans.
The campaign organizers plan to bring the huge ball to Laos in December, putting it in stadiums where Vietnam's Olympic team will play.
Vietnam won the Southeast Asian championships for the first time last year since 1959. This December, Vietnam's Olympic team will compete with other regional Olympic teams in the 25th Southeast Asian Games staged in Laos.