MILAN, Italy, Nov 25, 2010 (AFP) - Inter Milan coach Rafael Benitez breathed a sigh of relief as his reigning champions squeaked into the Champions League knock-out rounds with a 1-0 victory over FC Twente.
Esteban Cambiasso scored the only goal of the game 10 minutes into the second half to possibly save Benitez's job, if Italian press rumours were to be believed.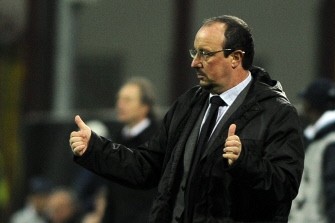 Coach Rafael Benitez reacts afterArgentine midfielder Esteban Cambiasso scored against Twente. AFP
And although Inter largely dominated the game and enjoyed the lion's share of possession and chances, it was far from easy as their Dutch visitors twice struck the woodwork and created more than enough chances to put a different complexion on the scoreline.
But Inter are now guaranteed a spot in the second round, although they will have to better Tottenham's result in their final Group A game in two weeks time if they are to snatch top spot and avoid the possibility of drawing the likes of Barcelona, Real Madrid, Chelsea, Bayern Munich and probably Manchester United in the next round.
They came into Wednesday's match at the San Siro with three defeats and two draws from their previous five games and the Italian press was convinced that anything other than a victory would spell the end of Benitez's brief reign in Italy.
But things are now looking a lot rosier for the former Liverpool and Valencia boss.
"It's always important to win, especially in the Champions League," said the Spaniard.
"If the coach is in difficulty it's because the team is in difficulty but we wanted to win, we scored and in the end it was this character that made the difference.
"In the first half we had two or three chances that could have made the difference but the team kept going.
"We gave away a couple of dangerous situations on the counter-attack but then in the second half we controlled the counters and things went better."
Benitez sprung a surprise before kick-off as he switched top scorer Samuel Eto'o to the left wing and played Goran Pandev down the middle.
"We know that Eto'o has scored a lot of goals from the left and the centre but we also knew that their centre-backs would find it difficult to move around following (Wesley) Sneijder and Pandev," he said.
And now Benitez is looking forward to some of his injured players returning to start to clamber back up the Serie A table and reduce leaders AC Milan's nine point gap to the reigning champions.
"Of course we played well in the beginning of the season when all our players were there," he added.
"Now we have many injuries so it's not easy to work or to replace these players.
"They're fundamental for us and (against Twente) we saw what great work Cambiasso and (Dejan) Stankovic did for us."
Sneijder came close to opening the scoring on 13 minutes as he curled a free-kick against the bar.
And it was his set-piece on 55 minutes that took a double deflection and fell into Cambiasso's path with the Argentine midfielder's crisp finish giving goalkeeper Nikolay Mihaylov no chance.
However, late on Twente twice hit the woodwork themselves.
Denny Landzaart curled a speculative effort from 25 yards onto the bar before Inter goalkeeper Luca Castellazzi had to tip Theo Janssen's inswinging corner onto the bar as well.