U-19 Vietnam easily defeated Brunei 5-0 in the second match of East Zone's group G of the 2016 AFC U-19 Championship qualifying stage in Myanmar on October 2.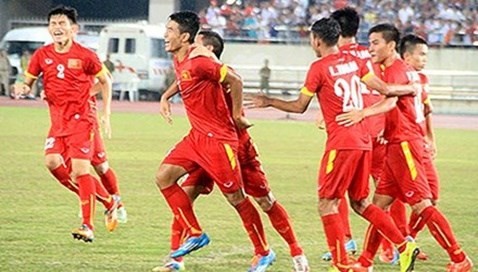 Vietnamese U19 players celebrate scoring against U19 Brunei at the AFC U19 qualifiers. (Source: vtc.vn)
Vietnam scored all its five goals in the first half.
The team dominated the match from the first minutes of the match. Ho Minh Di opened the score for Vietnam in the second minute. Lam Thuan doubled the score in the 25th minute.
Vietnam continued attacking repeatedly to hunt for more goals and Nguyen Duy Khanh struck in the 34th minute.
Only two minutes later, Pham Trong Hoa entered his name on the scoring board with the fourth goal for Vietnam.
Before the first half closed, Di scored his second goal to fix the match score at 5-0.
After the break, Vietnam still controlled the match, but the players slowed down to maintain their physical strength.
On September 28, Vietnam beat Hong Kong 3-1 in their first group match.
On October 4, Vietnam will face East Timor which lost to Vietnam in the 2015 ASEAN Football Federation's U-19 Championships in Laos last month.
The qualifying round has attracted 43 teams including finals host Bahrain, which are divided into two zones – the West Zone which has 25 teams and the East Zone with 18.
Vietnam is in East Zone's group G alongside Myanmar, Hong Kong, Timor-Leste and Brunei.
Ten group winners and five best second-placed teams will qualify for the finals while hosts Bahrain receive an automatic qualification (total 16 teams).