LEEDS, United Kingdom, Jan 20, 2011 (AFP) - Arsene Wenger insists there are no problems between Arsenal team-mates Cesc Fabregas and Denilson after the Brazilian appeared to criticise the Gunners captain in an interview.
Speaking to Brazilian television, Denilson seemed to question Fabregas's leadership qualities saying: "Fabregas is the captain, but he is not a leader to me".
But Wenger is adamant there is no rift between the pair, who helped Arsenal overcome Leeds 3-1 in an FA Cup third round replay at Elland Road on Wednesday.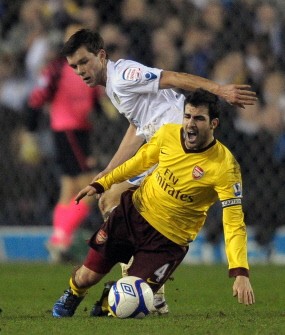 Leeds midfielder Jonny Howson (L) vies with Arsenal's captain Cesc Fabregas during the FA Cup third round replay football match at Elland Road on January 19, 2011. AFP
"I don't think that was the spirit of the comments, but the comments were made and maybe there is a bad translation in England," said Wenger. "Or perhaps it is a good translator with a bad spirit.
"They are two very good friends with a lot of respect for each other. I have many leaders in the team. Cesc is the captain and (Robin) Van Persie is the vice-captain, but we have shared leadership and there are many captains.
"(Samir) Nasri was captain tonight. Cesc is an outstanding leader, particularly when you consider he is only 22-years-old."
Fabregas also brushed off Denilson's comments to salute his team-mates for a job well done at Elland Road.
Goals by Nasri and Bacary Sagna sent Arsenal into a commanding lead before Bradley Johnson reduced the deficit with a spectacular 30-yard effort.
Substitute Van Persie made it 3-1 five minutes after climbing off the bench.
"Everyone loves speculation, but we are here to play football and leadership is what we showed tonight," said Fabregas.
"We were winning balls, playing together and won as a team. We want to do well in all of the competitions and we proved that.
"We didn't know much about Leeds, but they played really well at the Emirates. We were much superior to them tonight, though, and played fantastic."
Arsenal are looking to avoid a sixth successive season without silverware and this victory means Wenger's side remain in the hunt for trophies on four fronts.
Two points adrift of Manchester United in the Premier League table, they are in the semi-finals of the League Cup and the last 16 of the Champions League.
They now face a fourth round FA Cup home date with League One Huddersfield on January 30 after defeating Leeds.
"We were too strong for Leeds," added Wenger. "We were given a warning in the first game and we were learned our lesson, so that shows my players are intelligent.
"The team goes from strength to strength, we have great spirit and the players showed their hunger. Over two games, I have been impressed by Leeds' organisation and spirit and the physical quality of their team.
"They have a good chance to come back (to the Premier League)."
Leeds are two points adrift of an automatic promotion place in the Championship, and manager Simon Grayson is challenging his players to use this encouraging performance to propel them to the Premier League.
"We showed some good qualities and if you're going to be knocked out of the FA Cup then you might as well be knocked out by one of the best clubs in the world," said Grayson.
"We went out fighting and showed some good qualities. That Arsenal decided to send on Fabregas and Van Persie is a credit to us because they knew the tie was not over.
"The two ties against Arsenal have given us an appetite for more nights like these and we hope to be playing Arsenal regularly very soon."