Coach Alfred Riedl took a 25-strong squad of footballers into training in Ha Noi today for the King's Cup in Thailand from December 24-30 and the ASEAN Football Championship (AFF Cup) early in the new year.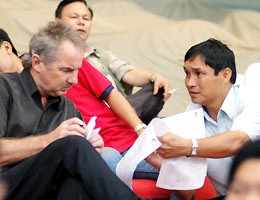 Coach Riedl (L) and assistant coach Mai Duc Chung confer at an international match.
Straight after Viet Nam's matches in the Asian Games in Qatar earlier this month, the Austrian coach called up five more players for the King's Cup: goalkeeper Nguyen The Anh, defender Nguyen Manh Dung, playmaker Nguyen Huu Thang, left winger Mai Tien Thanh and striker Dang Phuong Nam.
Thirty-year-old Nam, the most experienced player in the squad, was first chosen for the national team in 1997 by German Karl H. Weigang, the coach at that time.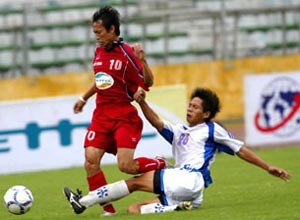 Striker Dang Phuong Nam (in red) gets the better of a first-division opponent. (Photo: VietNamNet)
The striker captains first division club The Cong, the army's team. It was their coach and Riedl's friend Tomas Vickzo who recommended Nam for the national team. He ended this year as the top scorer in the first division with 14 goals.
Playmaker Huu Thang is no stranger to national representation either. He was instrumental in Viet Nam's coming second after Thailand at the 2003 Southeast Asian Games, but injuries sustained soon afterwards left him with no chance of getting another cap until they healed.
 
Among the Vietnamese defenders now, Nguyen Manh Dung is considered one of the best. He joins fellow defenders Nguyen Huy Hoang, Nguyen Minh Duc and Huynh Quang Thanh, who played in the Asian Games, where Viet Nam lost 1-2 to Bahrain and 0-2 to the Republic of Korea, and crushed Bangladesh 5-1.
 
In the upcoming King's Cup, Kazakhstan, Singapore, Thailand and Viet Nam will compete in a round robin format.
In the AFF Cup in January and February, the Vietnamese team will share Group B with defending champions Singapore, bitter rivals Indonesia and neighbors Laos. Three-time winners Thailand will meet Malaysia, Myanmar and the Philippines in Group A.
 
In related news, the Viet Nam Football Federation announced yesterday they had invited Doan Nguyen Duc, the boss of V-League club Hoang Anh Gia Lai, to be the Vietnamese team's manager for the AFF Cup.
Duc has yet to reply as he and his boys are still in London, where they have played the B sides of Watford and Arsenal, and will meet Tottenham Hotspur's B side on December 21.
Related article
Tough draw for Viet Nam in Asean Football Cup