For the first time, Vietnamese football will receive foreign professional guidance to boost the Vietnam Professional Football team.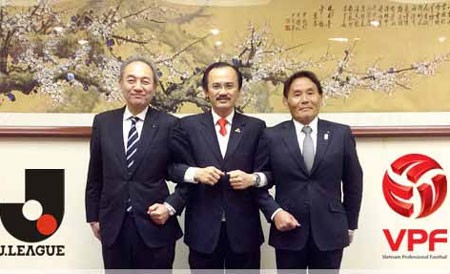 VPF's chairman Vo Quoc Thang (middle) signs an agreement with J-League administrators
On a trip to Japan before Tet, Vo Quoc Thang, President of VPF, met Kazumi Ohigashi, Chairman of the Japanese professional J-League and signed a long-term cooperation agreement.
According to the agreement, J-League will bring experienced professionals to help VPF in organizing, managing and running of the professional football team in Vietnam.
J-League will also help VPF step up internal domestic fund-raising as well as raise more sponsorship abroad for tournaments.
At first, Japanese football expert Kazuyoshi Tanabe will arrive in Vietnam on February 20 to assist the Vietnam National Football Championship (V-League).
Vietnam Professional Football that runs V-League invited Tanabe after he was recommended by J-League to contribute to boosting the local football organization.
Tanabe has previously worked for Japanese football clubs such as Yokohama, Avispa, Fukuoka and Ryukyu.
He has extensive experience in club and league management, sponsorship negotiations, and in devising long-term development strategies for football championships.
Many Vietnamese football fans are hopeful that Tanabe will help V-League flourish in 2013.
However, football experts advised that fan should not expect too much from Kazuyoshi Tanabe too soon, as change in Vietnamese football will take time. However, the move to bring in foreign experts will definitely bring about dramatic changes in the mind-set of Vietnamese football leaders.