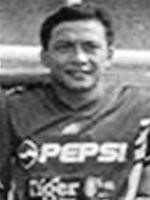 Truong Tan Hai (Filed photo)
Police arrested Truong Tan Hai, a former player of the Saigon Port Football Club, on March 7 on charges of bribery in a match fixing scandal five years ago.
Police said they have evidence that Hai, now a football referee, received VND100 million in 2001 from Nguyen Huu Thang, who was already arrested, from Song Lam Nghe An Club to help the club win the V-League championship that year via match fixing.
Police said that Hai agreed to help, and his club beat Nam Dinh Club 5-0 in the premier league's final round, pushing Thang's Song Lam Nghe An to the top of the league.    
After the football season, Hai's football career ended due to injury. He then took training courses to become a referee, officiating in the First Division.
Police are questioning Hai about how he used the sum given by Thang and if he shared it with anyone else. On the basis of the information, police will soon summon Saigon Port Club officials and former players for questioning. 
Hai became the fourth person arrested in the Song Lam Nghe An match fixing scandal in the 2000-01 season.
Police has earlier detained two club officials namely accountant Nguyen Xuan Vinh, coach Nguyen Huu Thang and manager Nguyen Hong Thanh.