PARIS, April 10, 2010 (AFP) - France are in danger of bombing out of the World Cup in the first round unless they dramatically raise their game, Chelsea striker Nicolas Anelka warned on Saturday.
The 1998 world champions and beaten finalists in 2006 only booked their ticket to South Africa after a controversial play-off defeat of Ireland.
And the scale of the task facing Raymond Domenech's side was plain for all to see when European champions Spain ran rings around them in a dominant 2-0 friendly win in March.
"We can't continue to take lessons in football like we suffered against Spain for example," warned Anelka.
"We have to work to find an answer, if not it's just not possible, we'll be coming home after the three (first round) matches."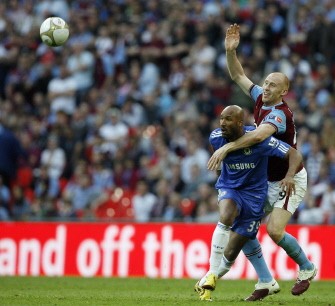 Aston Villa's Welsh defender James Collins (R) vies with Chelsea's French striker Nicolas Anelka (L) during the FA Cup semi-final football match at Wembley Stadium, London, on April 10, 2010. AFP PHOTO
The France attacker, in an interview weith Orange Sport, added: "I can't explain it - we have the players, we have the qualities to do something good. But in terms of positioning, tactics, and confidence the Spaniards were in a different league to us.
"They have the play, they know where they are going, which player to use. When one side is blocked, they switch to the other side - they know what football's about!
"You can't go and lose 2-0 like that - it was truly ridiculous.
"I believe for us - and we all know it - we were 'killed' on the pitch. It was a case of Division One against Division Four.
"That's the truth - it was like professionals taking on amateurs."
France are drawn in Group A with Uruguay, Mexico and hosts South Africa.