PARIS, July 26, 2010 (AFP) - The French Football Federation (FFF) announced on Monday that the findings of an independent report into France's disastrous World Cup campaign will be published on August 6.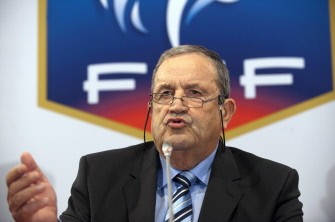 FFF new elected President by interim Fernand Duchaussoy gives a press conference at the FFF headquarters on July 23, 2010 in Paris following his election. AFP PHOTO
The report was commissioned in response to events in South Africa, where the France players boycotted an open training session in protest after striker Nicolas Anelka was sent home for insulting coach Raymond Domenech.
France, finalists in 2006, were eliminated at the group stage after drawing 0-0 with Uruguay and losing to Mexico and hosts South Africa.
The three-man team preparing the report will present a summary of their findings to the FFF's federal council on August 5, with the FFF formally responding and announcing if any action will be taken the day after.
New France coach Laurent Blanc revealed last week that he would not be calling up any of the players from France's 23-man World Cup squad for the friendly with Norway on August 11, his first match in charge.