ROME, April 30, 2010 (AFP) - AC Milan vice-president Adriano Galliani said on Friday that he will be supporting bitter local rivals Inter Milan in the Champions League final against Bayern Munich next month.
However, Milan fans need not fear that Galliani has changed his spots, it is merely out of self-interest.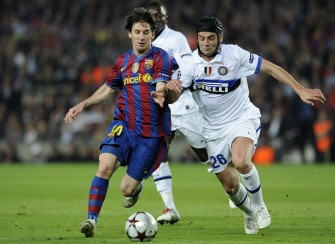 Barcelona's Argentinian forward Lionel Messi (L) vies with Inter Milan's Romanian defender Cristian Chivu (R) during the UEFA Champions League semi-final second leg football match Barcelona vs Inter Milan on April 28, 2010 at the Camp Nou stadium in Barcelona. AFP PHOTO
Italy currently has four teams in the Champions League with three of those qualifying directly for the group stages.

But they are perilously close to losing third place in the UEFA coefficients table to Germany.
If they do, they would lose their fourth Champions League team for the 2011-12 season, hence Galliani is hoping the Germans don't win.
"You have to support Inter and hope that they win before penalties, otherwise Germany will go ahead in the rankings," said Galliani.
"Of course I'll be supporting Inter and that's no laughing matter. If Inter lose, the third place team next season will have to play in the Champions League qualifiers rather than going directly into the group stages.
"And the fourth place team, instead of going into the Champions League preliminaries, will go into the Europa League."
The coefficients will not be calculated until the end of the season and it is not yet known exactly what permutations will result in Germany over-taking Italy.
What is sure is that they are very close and if it does not happen this time, it may still do so a year later.
Despite saying he will be supporting Inter, though, Galliani could not resist the temptation to remind everyone which team in Milan has the greatest European pedigree.
Milan have won the European Cup and Champions League seven times and reached 11 finals, while Inter have two wins and this will be their fifth final.
"Inter are right to be enthusiastic about their first Champions League final (since the European Cup format changed to include a group system), but those who support Milan have had the good fortune of watching eight Champions League finals (actually six).
"The rossoneri fans should be thankful towards (club president Silvio) Berlusconi who has taken them to eight legendary performances."
Galliani was being somewhat creative with his statistics there, counting only Inter's finals since the European Cup became the Champions League while counting all AC Milan's finals in Europe's Premier competition since Berlusconi bought the club -- including those of 1989 and 1990 when it was still the European Cup.