If nothing changes, German coach Falko Goetz will arrive in Hanoi on May 4 to sign a two-year contract 11 days later to serve as coach of Vietnam's national male football team.
The information was provided to Tuoi Tre by a trusted source but this has not been officially confirmed.
It was earlier reported that the Vietnam Football Federation (VFF) was considering two candidates for the job: Goetz and another German coach Hans Juergen Gede.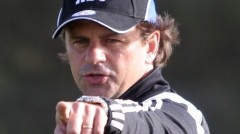 German coach Falko Goetz
One VFF official told Tuoi Tre yesterday that Goetz was selected because Gede is still stuck with a contract as assistant coach at Esteghlal club (Iran) till June.
According to VnExpress, Gede expects a lower salary than Goetz but is less competent.
Goetz was recommended by the German football federation while Gede in 2009 was dismissed as head coach of Neftchi Baku PFC for the unsuccessful performance of the team in the Azerbaijan Premier League.
VFF is scheduled to sign the contract with Goetz on May 15 to prepare for the World Cup 2014 and London Olympic 2012.
A draft contract has been sent to Germany for Goetz to read through before flying to Vietnam.
Initially Goetz demanded a whopping salary of US$35,000 per month but he later agreed to revise it down to roughly $22,000 upon being informed that Portuguese coach Henrique Calisto received just $22,000 when he quit the Vietnamese team for a Thailand one last month.
According to the draft two-year contract, the salary does not include bonuses and that for the second year, Goetz would receive a 10% pay raise or more depending on achievements.
But VFF also has certain expectations: Goetz is to help U-23 team enter the final game of SEA Games 26 to be held in Indonesia late this year.
If his team wins the gold medal, Goetz will receive $50,000 in prize.
However, VFF worries that Goetz could sign the contract late and has plan B when coach Mai Duc Chung will temporarily lead the team in the first two matches for the pre-qualifying round of World Cup 2014 and coach Phan Thanh Hung will lead the Olympic Vietnam team in the first two matches for the pre-qualifying round of Olympic London 2012.
After Goetz officially signs the contract, Chung and Hung – both of Vietnamese nationality - will automatically become deputy coaches to assist Goetz.
VFF was supposed to announce who would become the national coach on April 15 but has been delaying the decision since.
Earlier, VFF had shortlisted five top candidates out of 40 candidates in the final selection round: they are Juergen Gede and Falko Goetz from Germany, Pierre Lechantre (France), Steve Sampson (US) and Eduardo Martinho Viganda (Portugal).
Pierre Lechantre and Steve Sampson have been judged most competent but as they demand a high salary, VFF turned them down.
German's Falko Goetz, 49, is described as a qualified coach who introduces a coaching style that suits Vietnamese football. In addition, he suggests an acceptable salary rate, according to a source close to the Vietnam's football governing body.
The seat of Vietnam's coach has been left empty since early March after the resignation of Portuguese coach Henrique Calisto, who had cited unfair public criticism by Vietnamese media against him and his men after their failure at the 2010 Suzuki Cup as the main reason.