LIVERPOOL, England (AFP) – Liverpool captain Steven Gerrard is expected to be out for three to four weeks with a hamstring sustained playing for England in their 2-1 friendly defeat by France, the club said Thursday.
Reds officials were furious Gerrard -- who went off at Wembley on Wednesday after lunging for an 84th minute tackle -- was still on the field at the time of his injury.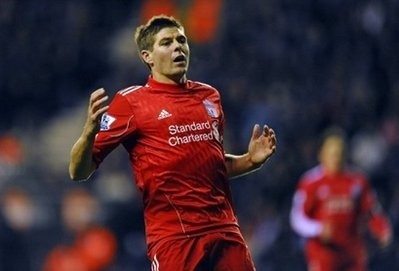 AFP - Liverpool captain Steven Gerrard pictured during Premier League match against Wigan Athletic earlier in November
Liverpool insisted they had an agreement with England manager Fabio Capello that Gerrard would only play for an hour at most against France.
The 30-year-old Gerrard is due to have a scan later on Thursday but the head of Liverpool's medical department, Dr Peter Brukner, said enough was already known to declare the player's injury as "significant".
Brukner, speaking to Liverpool's official website, said: "Steven injured his hamstring last night. He's just been in for an early assessment here and it certainly looks like a significant hamstring injury.
"We should have the results of the scan tonight. He's going to be out for a little while, I'm afraid. I'd imagine it could be three to four weeks."
Gerrard's injury provoked an angry response from Liverpool's head of fitness and conditioning Darren Burgess, who vented his fury on micro-blogging site Twitter on Wednesday in comments that were soon deleted.
"Unbelievable from all associated with England and English FA with regard to SG's injury. Completely ignored agreement and past history," Burgess ranted.
"Completely amateurish and now we pay for their incompetence. Absolutely disgraceful," he added.
However, Brukner tried to calm relations between Liverpool and England, accepting it was unrealistic to place restrictions on Capello as to how he could deploy players.
"If you put your hand up to play for your country, you've got to accept how long they want you to play for," Brukner said.
"There were obviously circumstances last (Wednesday) night which came together to result in Steven playing for a bit longer than we'd hoped, which is disappointing but there's nothing we can do about that now.
"We'll move on and work as hard as we can to get him back playing for Liverpool as soon as possible."
Capello, defending his decision to play Gerrard for more than a hour, said Wednesday: "They (Liverpool) can't decide how long a player plays with the national team. If it's possible, he'd have played an hour.
"I understand why they're upset and I'm also upset," the Italian added.
"The problem is that, when you play this game on Wednesday after a lot of Premier League, Europa League or Champions League games, it's possible there might be an injury."