LUANDA, Jan 28, 2010 (AFP) - Ghana, guided by their canny Serb coach Milovan Rajevic, have defied a horror list of injuries to make it to their first Africa Nations Cup final in almost two decades.
Rajevic hailed his mix of Under 20 world champions and a smattering of experienced players who outwitted the more experienced Nigeria side in Thursday's semi-final.
Asamoah Gyan took his goal tally in the competition to three with a first half header from a corner to down fellow World Cup qualifiers the Super Eagles 1-0 and set up an intriguing clash with defending champions Egypt.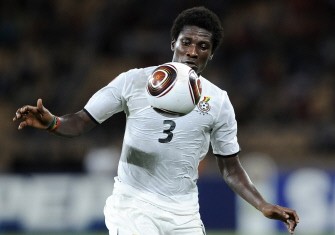 Gyan of Ghana eyes a ball during the semifinal match between Ghana and Nigeria during African Cup of Nations football championships CAN2010 at November 11 stadium in Luanda on January 28,2010. Ghana won 1-0. AFP Photo
The Pharaohs remain on course for a third straight title after beating Algeria 4-0 in Benguela in Thursday's second semi-final.
Ghana captain Richard Kingson, one of the few established stars on the team shorn of the likes of Chelsea midfielder Michael Essien and Stephen Appiah, rallied his young troops with a fine performance in goal.
The Wigan stopper said: "I would like to thank almighty God for making it possible for us.
"I was shouting at my defenders towards the end as they were rushing a little, I told them to calm down and defend well as the game wore on."
Kingson added: "I was suffering from a thigh injury that I picked up in the quarter-final win against Angola, I wasn't entirely fit but I promised the boys I would do anything for them, I sacrificed myself for the guys."
Goal scorer Gyan commented: "It's unbelievable. We are a young team and not many people gave us a chance of making the final."
Rajevic, who has proved a superb replacement to former coach Claude Le Roy, revealed his pep talk to his players before kick-off.
"I told them two things. The first that we are not going to play beautiful football today but play for a result - that's all that counted.
"We came here to compete - not play beautiful football - it's only about the result and for your team to go through to next game.
"I also told them it was finally time to score from a set piece, it's so long since we managed that."
He added: "Nigeria had a few good chances. Our team is very young and sometimes due to lack of experience that led to Nigeria creating chances but in the end it worked out for us."
The result has piled pressure on under-fire Nigeria coach Shaibu Amodu who was asked if he would still be in charge to take Nigeria to the World Cup in South Africa.
He responded: "My contract with Nigeria expires in August.
"If I'm still in charge I will look at the deficiencies shown up at this tournament and look at areas of reinforcement."
Reflecting on this semi-final loss Amodu added: "Football is sometimes painful.
"I don't think we lost to a better side, we lost to a youthful and enterprising young side. So far my team is still not at its best.
"Before I left Nigeria I told the people back hoome clearly that we don't have the best team yet but that I was confident the boys are developing from match to match.
"The team has still not gelled, but this Nations Cup has provided us with an opportunity to test ourselves."
He rued a host of chances missed by striker Obafemi Martins.
"Martins had a lot of chances, I thought over 90 minutes one of them would go in.
"It's easy to criticise once a match is over. We just weren't able to get our attack right.
"We played so well but as soon as we went to sleep with one moment of madness leading to their goal."