Football fans in the northern city of Hai Phong on Saturday rushed to sign on a huge ball created this July for a nationwide campaign organized to collect one million signatures to support U-23 Vietnam in December's 25th Southeast Asian Games in Laos.
The composite ball, 6 meters in diameter and 1.2 tons in weight, received about 100,000 signatures from Hai Phong, according to the campaign organizers – paint manufacturer 4 Oranges and media company Country Eye Creative.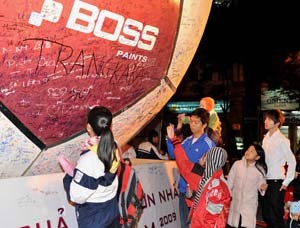 Hai Phong fans sign on the ball on Nov. 21 in the northern city (Photo: Quynh Hoa)
Boss Paints is the manufacturer's brand associated with the support campaign.
The ball started its nationwide tour in the Mekong province of An Giang in July, going through Gia Lai, Danang and Dong Nai, Ho Chi Minh City, Hanoi and then Hai Phong. The final stop before the ball is brought to Laos is Vinh City in the central region late this month.
Besides the ball, the program organizers collect fans' signatures through a website at www.traitimbongda.com or www.traitimbongda.vn.
More than 800,000 signatures have been collected so far.
In Vientiane, the capital of Laos, the composite ball will be put in stadiums where the Vietnamese team will play in the SEA Games. Vietnam will take on defending champions Thailand on the Dec. 2 opener, East Timor two days later, then Malaysia on Dec. 6, and Cambodia on Dec. 8.