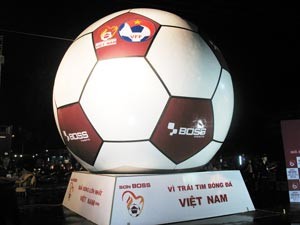 The six-meter-in-diameter ball is touring Vietnam to collect signatures to support the Olympic team in December's Southeast Asian Games (Photo: Tuong Thuy)
Vietnam's biggest ball, which is touring the country in a nationwide campaign to collect one million signatures to support the Olympic team in the 25th Southeast Asian Games this December, has arrived in the Central Highlands city of Pleiku.
The giant composite ball, six-meter in diameter and 1,200 kg in weight, is staying a few days in Pleiku, home to Hoang Anh Gia Lai – the champions of the Vietnamese League between 2003 and 2005.
The whole team and all members of the Ho Chi Minh City Football Club, who played the hosts in a V-League match Sunday, signed on the ball Monday. Fans in Pleiku and Gia Lai Province, whose center is Pleiku, have also signed on the ball.
The next stop of the ball is Danang City, home to SHB Danang Club, who became this year's V-League champions Sunday though the league has three more rounds to go. The ball will stay in Danang on August 15-16, and it is expected that Danang fans would robustly cheer on the Olympic team-support campaign as their club won the V-League again after 17 years since the first time.
After Danang, the ball will travel to Ho Chi Minh City early September, where paint manufacturer 4 Oranges, a sponsor of the Vietnam football team, is based. The sponsor is a co-organizer of the nationwide campaign, which is set to end in October.
During the campaign, boards are also set up at stadiums nationwide to collect more signatures from fans.
The campaign organizers plan to bring the huge ball to Laos in December, putting it in stadiums where Vietnam's Olympic team will play.
Vietnam won the Southeast Asian championships for the first time last year since 1959. This December, Vietnam's Olympic team will compete with other regional Olympic teams in the 25th Southeast Asian Games staged in Laos.