The 2014 Golden Racket International Table Tennis Tournament concluded on July 20 in Ho Chi Minh City, seeing the Republic of Korea team topping with two golds, two silvers and two bronzes.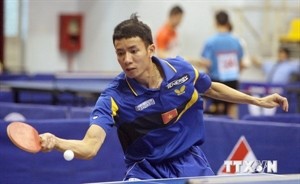 Vietnamese player Dinh Quang Linh (Photo:VNA)
Hong Kong (China) came second with two golds and one bronze.
The tournament saw Vietnamese players' performances improved with the highest achievement recorded in women's singles and the men's doubles event.
In women's singles, Mai Hoang My Trang walked away with a bronze together with Tie Yanna of Hong Kong. In the event, Lee Ho Ching from Hong Kong (China) took the crown after defeating Kim Yeon Ryong from the Republic of Korea (RoK).
In the men's doubles event, the Vietnamese teams got a silver and a bronze.
Le Tien Dat, who earned a silver at the 2013 SEA Games, failed to defeat strong competitors from the RoK and Thailand when managing to pass the men's singles quarterfinal.
The Hong Kong team, possessing world top 100 players, became champions at women's doubles after defeating their Thai competitors.
The same day, the tennis tournament U18 ITF Group 5 also closed. The Thai team brought home three golds in men's and women's singles and women's doubles, while Indian-Philippine duo won in men's doubles.