The Montgomerie Links Vietnam golf club in the central coastal province of Quang Nam launched on Friday its golf academy, a move that highlights the steady growth of golf in a nation still new to the game.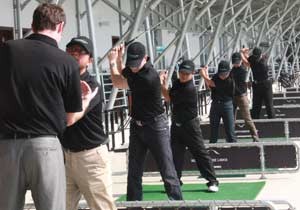 Practice at the Montgomerie Links Vietnam golf academy on Friday (Photo: Courtesy of Montgomerie Links)
About 100 guests were invited to the afternoon launch ceremony that included an hour-long instructional session with academy manager Lee Marshall, a British PGA member.
"Montgomerie feels strongly that if you know what shots to hit in certain situations, if you can think your way around a course properly, then your scores will improve and the game becomes more enjoyable," said Marshall, who joined the club less than a month ago after a two-year period as director of coaching at the Jinji Lake International Golf Club in Suzhou, China.
Montgomerie Links general manager Jon Tomlinson said, "We've launched the first nine holes. Now we embark on stage two with the opening of the golf academy."
Some of the more experienced players attending yesterday's launch also received a lesson in course management, an aspect of the game that Colin Montgomerie – an eight-time European Tour Order of Merit winner and the course's designer – believes is crucial to golfing success.
The golf club is built on a coastal landscape in Dien Ban District, and the debut of its first nine holes was made this August. All 18 holes are expected to be completed by later next year. Indochina Capital, one of Vietnam's major financial services firms, has committed US$45 million to the project.