Thirty-five ambassadors and guests from APEC member countries as well as officials from Viet Nam's Ministry of Foreign Affairs participated in the APEC Golf Tournament on February 5, 2006 in the northern province of Vinh Phuc. Brunei Ambassador Dato Paduka Haji Ali bin Haji Hassan ranked first.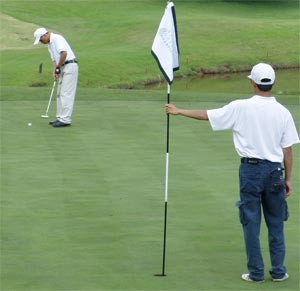 A golfer approaches the hole (Photo: Tuong Thuy)
The tournament, arranged by the ministry, was one of many activities in Viet Nam to promote friendship among member countries of the Asia-Pacific Economic Cooperation (APEC) forum ahead of the 14th APEC Summit to be held in Ha Noi in November 2006.
Chinese President Hu Jintao, Russian President Vladimir Putin and US President George W. Bush have confirmed their participation in the summit. 
The summit's theme is 'Towards a Dynamic Community for Sustainable Development and Prosperity'. Its official website is www.apec2006.vn.