PORTSMOUTH, England, March 7, 2010 (AFP) - Portsmouth manager Avram Grant hailed his players' character after their 2-0 win over Birmingham City booked an FA Cup semi-final spot at Wembley.
The normally inscrutable former Chelsea boss choked back emotion as he praised his team and the crisis club's passionate fans who had urged their team to victory against the odds at a full-house Fratton Park here on Saturday.
Israeli manager Grant, whose job is in doubt as administrators purge the payroll, hopes the south coast club - the 2008 FA Cup winners - are still in existence come the semi-final so he can lead his team on to the pitch.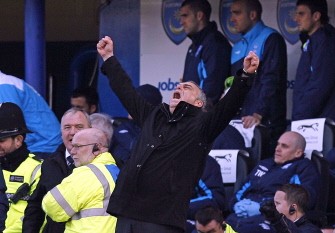 Avram Grant celebrates on the final whistle after their 2-0 victory in the FA Cup Quarter Final football match between Portsmouth and Birmingham City at Fratton Park in Portsmouth, on March 6, 2010. AFP PHOTO
"I am just so pleased for everyone connected with the club," Grant said. "The players have been through so much, not knowing what was going to happen next or if the club can continue.
"I am pleased also for our supporters. They have been so good to me and they lifted the players in such a strong way.
"No-one knows what is happening to the club but all we can do is keep preparing properly for each game and trying to win it.
"Now we must got to Wembley but who knows if it can happen."
Grant was referring to bottom of the Premier League Portsmouth's precarious financial position and to their return to the High Court on March 15 to answer a winding-up order brought by British tax authorities.
If a judge decides Portsmouth cannot overcome debts said to be totalling 76 million pounds (115 million dollars) they could be liquidated and go out of business completely.
This would mean they would be unable to fulfil their semi-final date at Wembley, although administrator Andrew Andronikou is confident Pompey will see out the season.
"I cannot say because I do not know," Grant admitted. "All I do is my job and the players show spirit in all they do, training and playing.
"We shall see."
French striker Frederic Piquionne scored both goals in the second half and came close to a hat-trick in stoppage time.
But Birmingham manager Alex McLeish was furious about a refereeing decision which denied his team a goal with ten minutes remaining.
Piquionne put Portsmouth ahead in the 67th minute, scrambling a shot over the line after Birmingham goalkeeper Joe Hart and defender Scott Dann had failed to clear.
Birmingham were still reeling three minutes later when Piquionne took a pass from Jamie O'Hara, on loan from Tottenham, and twisted away from Roger Johnson before scoring.
The turning point came in the 80th minute when Liam Ridgewell's close range header was ruled not to have crossed the line by referee Steve Bennett and his assistant.
But video replays clearly showed the ball had gone over the line before it was gratefully grabbed by England goalkeeper David James.
"I just don't know how it could have been disallowed," said McLeish. "It was not as though it was a close call. The whole of the ball was over the line.
"For an hour I thought we were the better side, our build-up was composed and we looked in control.
"But we did not make enough chances up front and when we did, we did not take them."
Ridgewell's effort came on the day the International Football Association Board once more ruled against introducing goal-line technology.
Pompey hero James, a survivor of the 2008 FA Cup-winning side, said: "Did the ball cross the line? Not as far as I am concerned. Maybe we can debate that on the way home but we won 2-0 and that is all that matters.. Now for Wembley."