The Viet Nam marathon team have received a US$2,500 prize money for their third position among Southeast Asian countries competing in "the Greatest Race on Earth" marathon 2005/06.
The Viet Nam team, comprised of Nguyen Tien Xuan, Bui Van Toan, Nguyen Chi Dong and Nguyen Van Khoa, finished the four legs with a cumulative time of 12 hours 29 minutes and 39 seconds to secure the third place in Southeast Asia after Indonesia and Thailand, above the Philippines, Singapore and Brunei.
Viet Nam ranked 21st out of 28 countries and territories competing in the race, which took place with four legs in Kenya's Nairobi, Singapore, India's Mumbai and Chinese's Hong Kong from October 2005 to February 2006.
Kenya won the Standard Chartered Bank-funded international marathon with just nine hours eleven minutes and three seconds, followed by Zimbabwe and Uganda in the second and third place.
The UK-based Standard Chartered Bank created the race in 2004, so the bank called it the Standard Chartered Greatest Race on Earth. The bank spent a total of US$1,575,000 for all the runners competing in the 168-kilometer marathon 2005/06.
Mr. Ashok Sud, the bank's chief executive for Viet Nam, Laos and Cambodia, presented the US$2,500 prize to the Viet Nam team on March 14. He said, "Our bank would keep sponsoring the team in the 2006/07 race because we see the potential of Vietnamese athletes".

Viet Nam's athletics head coach Duong Duc Thuy said, "We did our best to remain in the top three in the region. As we finished first in the region last year, our runners faced stiffer competition this year.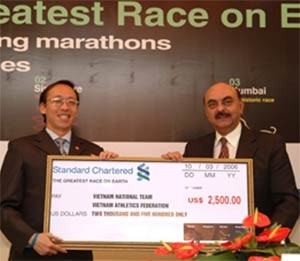 The Standard Chartered Bank's Ashok Sud (R) presents the prize to Mr. Duong Duc Thuy
Related Link:
The Greatest Race on Earth