GUANGZHOU, China, Nov 14, 2010 (AFP) - Olympic Council of Asia boss Husain Al-Musallam said the Asian Games opening ceremony outdid the extravaganza put on for the 2008 Beijing Olympics and gave high marks to host city Guangzhou.
"The opening ceremony is unique ... everybody who witnessed it alive or on TV, would say this is fantastic," Xinhua news agency quoted OCA director general Husain as saying.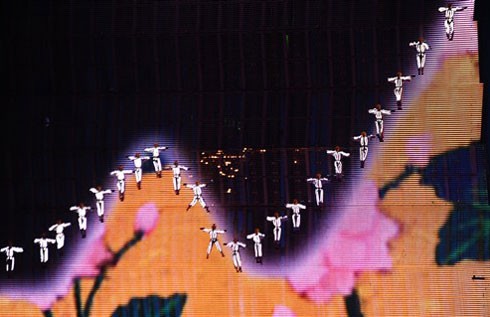 A show during the opening ceremony
"To me, it is not only equal to the Beijing Olympics. It is just better than the Beijing Olympics."
The ongoing Asiad opened Friday with a "breakthrough" ceremony held on a boat-shaped island in the middle of the Pearl River -- instead of in a stadium -- in south China's Guangzhou city near Hong Kong.
The extravaganza ignited a huge security sweep to protect national leaders including Chinese Premier Wen Jiabao, with forces mounting a land, sea and air operation that brought parts of the city of over 10 million to a standstill.
Husain said Guangzhou deserved "a full mark of 100 points" for its arrangements and organisation of the ongoing Asiad that runs from November 12-27, Xinhua said.