MADRID (AFP) – Barcelona coach Pep Guardiola lost his cool Tuesday as Real Madrid coach Jose Mourinho took a pot shot at him ahead of their Champions League semi-final in a row over referees.
"In this press room he's the damn boss, the damn master, he is the most knowledgeable in the world, I don't even want to compete for a moment," said Guardiola sarcastically ahead of the arch-rivals' first leg clash Wednesday at the Bernabeu stadium, where experienced German official Wolfgang Stark will referee.
Before Stark was named, Guardiola said Mourinho, who is Portuguese, would be "super happy" if Portugal's Pedro Proenca was chosen.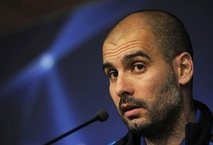 AFP - Barcelona's coach Josep Guardiola attends the press conference
That got up Mourinho's nose and he responded in kind.
"Besides the naming of the referee and the pressure that they exerted that it was not Proenca, the most important thing is that we are in a new cycle," Mourinho told a news conference.
"Up to now we have had two types of coaches. A very small group of coaches who never speak to the referees.
"After that, there is a bigger group, of whom I am one, who criticise the referees when they make huge errors. But it is also a group who are happy to highlight the good work of the referee.
"And now, with the declaration of Pep the other day, we are entering a new era with a third group, which for the moment includes only him, who criticise the correct decision of the referee.
"This is something I have never seen in the world of football."
Mourinho was referring to a goal by Barcelona's Pedro Rodriguez that was disallowed for offside in the Spanish Cup final against Real on April 20, and which video replays showed was a correct decision by the referee.
Wednesday will be the third of four of "Clasico" meetings between the two Spanish powerhouses in less than three weeks.
Real drew 1-1 with the Spanish champions-elect in the league on April 16 before defeating their rivals 1-0 to take the Spanish Cup.
But Mourinho rejected suggestions that Real will be the favourites on Wednesday after their Cup success.
"I believe we are not favourites, it is a semi-final of champions, two rival teams who know each other well, with tradition, with players who know what it is to succeed, who know what it is to play big games," he said.
"Maybe tomorrow (Wednesday) after the match you can say one is a little bit ahead or one is is a little behind, but for now there are no favourites."