TOKYO, Oct 15, 2011 (AFP) - Phan Thi Ha Thanh won Vietnam's first world-class gymnastics medal as she finished third in the women's vault at the world championships in Tokyo Saturday on the eve of her 20th birthday.
"I feel really, really happy. Of course, every gymnast wants to win a medal before any competition. But for me, winning a medal had been nothing but a dream," she said through an interpreter.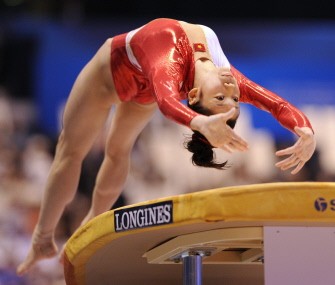 (AFP photo) Phan Thi Ha Thanh of Vietnam performs during the women's vault final at the World Gymnastics Championships in Tokyo on October 15, 2011.
The title went to 16-year-old American McKayla Maroney who collected 15.300 points with Germany's 36-year-old Oksana Chusovitina second at 14.733. Thanh scored 14.666.
The Hai Phong native, who started gymnastics at the age of six, also earned a ticket to the 2012 London Olympics. All individual apparatus medallists at these championships qualify for the Games unless their countries already booked berths in London as teams.
"My mind is blank now as I'm full of happiness," she said when asked what she would aim for in London.
"I cannot think about my goal at the moment. But I want to take time in setting my goal after all of this is over."
Tokyo was her second world championships since the 2009 London edition. She finished runner-up on the vault and the balance beam at the World Cup in Porto, Portugal, in June 2010.