SEPANG, Malaysia (AFP) – Lewis Hamilton clocked the fastest time in opening free practice for the Malaysian Grand Prix on Friday as Michael Schumacher produced a much-improved and competitive performance.
Hamilton, the 2008 world champion, topped the time-sheets with a best lap of one minute and 34.921 seconds, setting his best effort early on as the McLaren team made clear that the wide open Sepang track is to their liking.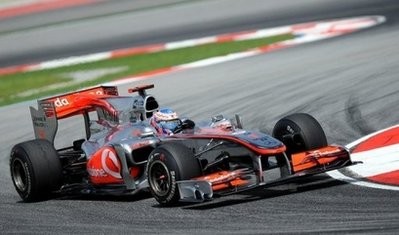 McLaren-Mercedes driver Lewis Hamilton of Britain powers his car through a turn during the first practice session for the Malaysian Grand Prix in Sepang. AFP photo
The 41-year-old Schumacher, unimpressive in the two opening races in Bahrain and Melbourne since returning with the new Mercedes team, worked consistently on his car's set-up for improvements and wound up in fourth spot.
It was good enough to prove he remains a force, but not good enough for him to outpace his team-mate and fellow German Nico Rosberg who produced a fast late lap to take second spot.
Hamilton's team-mate Jenson Button was second fastest for most of the session before being pushed down to third by Rosberg.
Pole Robert Kubica was fifth for Renault ahead of Australian Mark Webber in the Red Bull, German Adrian Sutil for Force India and two-times champion and current championship leader Spaniard Fernando Alonso in the Ferrari.
The top six were separated by just half a second on a day when it was difficult to know which cars were light on fuel -- and looking for a qualifying set-up -- and which were working with heavier fuel loads.
All this left German Sebastian Vettel ninth for Red Bull ahead of Swiss driver Sebastien Buemi of Toro Rosso and Alonso?s team-mate Brazilian Felipe Massa in 11th place, in a session that saw his car twice leave the track.
Malaysian local hero Fauruz Fauzy, the new Lotus team's reserve and test driver, achieved his dream by taking over Finn Heikki Kovalainen's car for the 90 minutes run in scorching hot conditions.
in a related development drivers Friday welcomed news that so-called "outboard mirrors" are likely to be banned from the Chinese Grand Prix later this month.
The mirrors, set on the cars' side-pods, have been blamed for a host of accidents and near-misses in the opening two Grands Prix this season, and are set to be replaced by mirrors set in a better position on the drivers' cockpit.
The move is being taken by the International Motoring Federation (FIA) on safety grounds, according to drivers including Williams' veteran Rubens Barrichello and Red Bull's Sebastian Vettel.
In Australia, another veteran, Spaniard Pedro de la Rosa, was involved in two alarming incidents during practice and qualifying when he failed to see fast cars approaching to pass him.
e la Rosa apologised for his part in the incidents and said: "Everyone has got a problem with mirrors.
"But, the reality is that the mirrors on the sidepods, well, they give you very small vision of what is happening behind and they vibrate a lot so you see very little."