Hanoi's fencing team defeated all rivals to reach top position at the 2010 National Sports Festival with six gold, six silver and six bronze medals.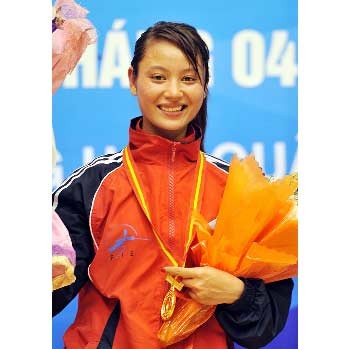 Hanoi's fencer Vu Thi Tuoi receives a gold medal
It was a predictable result for most fans as Hanoi's fencing team came to the festival with their 45 strongest fencers; twelve of them from the national team.
Second and third positions respectively belong to Ha Duong (two gold, three silver and two bronze medals) and Ho Chi Minh City (two gold, two silver and two bronze).
The fencing event, as part of the 2010 National Sports Festival, was held from Apr 12 – 15. One hundred and twenty top fencers from seven teams, including Hanoi, Hai Duong, Hai Phong, Bac Ninh, Hung Yen, Binh Thuan and Ho Chi Minh City participated.
The 2010 National Sports Festival consists of 41 different events for 903 sets of medals.

The first stage of the 11 month festival began on January 6 with mountain climbing in Binh Phuoc, followed by aerobics, dancing, judo and football events in other localities.
The second stage will be in the Central city of Da Nang in December with diving, canoeing, rowing, weightlifting, basketball, billiards and volleyball.