Team Horison from Hanoi have won the Budweiser 6v6 National Championships to advance to the global finals, scheduled for May 25 at Old Trafford Stadium of English powerhouse Manchester United.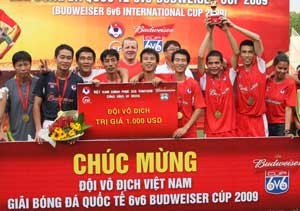 Horison win the Budweiser 6v6 National Championships at Thong Nhat Stadium, HCM City, on April 30
Horison beat Thuy Loi FC, also from Hanoi, 3-1 in the national tournament's final at Thong Nhat Stadium, Ho Chi Minh City, on April 30. They pocketed US$1,000 and gained the country's berth in the international event, or the 16-nation World Final. Matches will be played out in the popular six-on-six format.
Maseco and Tan Nhat Nam, both in Ho Chi Minh City, came third equally in the Vietnam tournament, in which a total of 64 teams competed, starting on April 18.
Horison, including eight footballers, will leave Vietnam for Manchester on May 21. Their journey includes round-trip airline tickets to England, hotel accommodation, access to Manchester United training facilities, tour of Old Trafford, and chance to meet Manchester United legends.
"This is an unprecedented occasion in Vietnam and a moment these men will remember for the rest of their lives," said Walter Blocker, CEO of the Gannon Group, authorized distributor of Budweiser in Vietnam.
"Now that they've made it to the 'Theatre of Dreams', we hope they'll take it one step further and bring home the Cup," he added.
The Vietnam Football Federation (VFF), Vietnam Football Development Company, and Budweiser launched this competition on March 25 to identify the best six-player football team in Vietnam. More than 500 amateur teams submitted entries, with VFF determining the field of 64 at a special draw ceremony April 16.
Budweiser has confirmed it would maintain the cup next year in Vietnam.