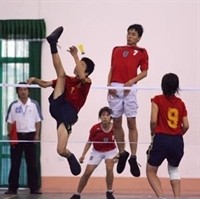 A sepak takraw match in Vietnam (Filed photo)
The National Sepak Takraw Championships will take place at the Phan Dinh Phung Indoor Stadium in Ho Chi Minh City from February 26 to March 6, the organizers have announced.

The tournament is organized by the General Department of Physical Training and Sports of Vietnam (an arm of the Ministry of Culture, Sports and Tourism) in coordination with the HCM City Department of Culture, Sports and Tourism.
The event is expected to draw the participation of eight teams from Hanoi, Bac Giang, Hai Phong, Nghe An, Kien Giang, An Giang, Dong Thap and HCM City.
Players will compete in the men's singles, women's singles, men's doubles, women's doubles, and fixed doubles. Meanwhile, the team event will involve three players from each team.
The tournament aims to select outstanding players for the national team who will compete in three international tournaments this year namely the World Championships, the Asian Indoor Games 2009 in Vietnam and the Southeast Asian Games in Laos.