Achieving two bronze medals for men's double and women's double, Vietnam tennis team succeeded in achieving its goal set in advance at the 23rd SEA Games in the Philippines. However, these city representatives in the national teams like Mai Huynh, Quang Huy and Minh Quan were not, in the professional judgment, in their best mood. They showed irregularity in their performance there.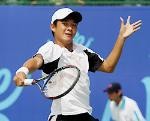 vnexpress-Minh Quan seeded No.1of HO Chi Minh city team
In fact, obviously the uncertainty in their playing gives rise to great concerns to the training board of the city, especially when the time for the event is nearly coming.In these days, Mai Huynh, Quang Huy and Minh Quan, under the technical supervision of the young coach – Mr. On Tan Luc, have been spending time on trying to improve technical lessons so as to have great results at the mentioned event.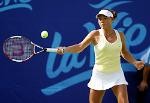 vnexpress-Mai Huynh,a huge expectation for the femal title
Of course, beside the determination to protect the leading position for Ho Chi Minh City tennis as well as restore their strenght, the male players of the city must have the best performance at this event to win an opportunity to participate in the Men's Future tournaments held in China next year. The chosen will be financially sponsored by Vietnam Sport Committee on travel cost, accommodation and entry fee.
Competing in such an important event like the Nationwide Challenger Tournament 2005, Mai Huynh, Quang Huy and Minh Quan express their strong determination and expectation of achieving their set goals as mentioned.