The National Junior Swimming Championship 2015 yesterday closed at Phu Tho Swimming Club. After five days of competition, Ho Chi Minh City team captured the first position with achievement of 25 gold, 17 silver, and 16 bronze medals.
 
Nguyen Diep Phuong Tram of HCM City based-National Sports Training Centre snatched three gold medals in the women's 50m freestyle (27 minutes 10 seconds), 400m individual medley (5 minutes 9 seconds) and 200m butterfly (2 minutes 23 seconds).
 
Nguyen Quang Thuan who is young brother of Asian Game champion Nguyen Thi Anh Vien was not enough to grab medal at the swimming championship. The 9 years old athlete was ranked seventh position in the men's 50 m backstroke under 11 years- old.
 
On the same day, athlete Tran Duy Khoi achieved one gold medal in the men's 50 backstroke. His achievement is also considered a bid farewell to junior swimming competitions because next year Duy Khoi will grow out of junior status.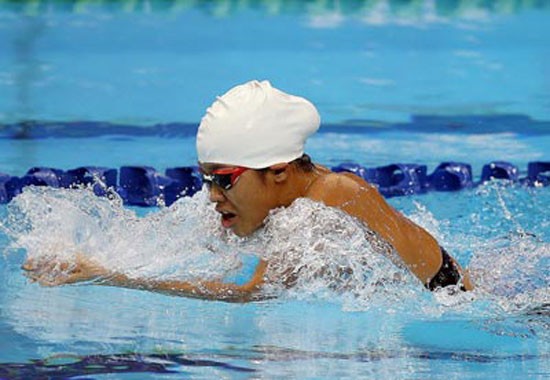 Nguyen Diep Phuong Tram wins three gold medals. (Photo:SGGP)