MELBOURNE, Jan 28, 2010 (AFP) - Justine Henin can barely believe she is one match from another Grand Slam title after mercilessly thrashing China's Zheng Jie in their Australian Open semi-final on Thursday.
Henin, who retired in May 2008, has made the most of being granted a wildcard to compete in her first Grand Slam since the 2008 Australian Open and will face top seed and defending champion Serena Williams in the final.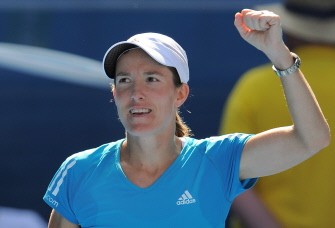 Henin (AFP photo)
The seven-time Grand Slam winner, most recently at the US Open in 2007, was simply too good for her unseeded Chinese opponent, winning the last 12 games of the match on her way to a 6-1, 6-0 victory in just 51 minutes.
"It is unexpected ... the dream continues," Henin said. "I am going to play the number one and defending champion.
"I wasn't sure about what I would feel on the court and how things would go.
"I have just enjoyed my tennis and taken it step by step. I can't wait for the final now, it is an amazing feeling."
The final will be the 14th time Henin and Williams have met, with the American leading 7-6, but the first time in a Grand Slam decider.
Henin, who said she had returned to tennis a more mature player, said Williams had again proven her champion qualities to reach the final and embraced the challenge ahead.
"She's just a real fighter," Henin said of Williams. "She's proved that again in this tournament, but I will do my best.
"I'm so happy to play against her because if I want to win another Grand Slam, I'll have to beat the best player in the world and that's just the biggest challenge I could get.
"I have to be honest, I didn't really expect that, but now that's a reality that is coming."
It will be the 27-year-old's third appearance in the final here, having won the tournament in 2004 and been beaten by Amelie Mauresmo in the 2006 final, when she retired due to illness after losing the first set.
Henin is the first wildcard to reach the Australian Open final and is on track to emulate the comeback of countrywoman Kim Clijsters, who capitalised on a wildcard to win last year's US Open in her first Grand Slam after returning from retirement.
In Clijster's case she retired to start a family, while Henin cited fatigue when she became the first player to hang up her racquet while ranked number one in the world.
Regardless of what happens in the final, Henin said bigger things were ahead.
"I have a lot of things to improve on," he said.
"I know I'm not yet at what I can produce, we have a lot of things to work on with my coach and we're going to go back home and get ready for the next tournaments.
"I think we can see a lot of things already, so that's very positive."
Henin said she had a new perspective of tennis because of her break.
"I started to trust myself much more as a person and I realised I could exist without tennis," he said.
"That was an important step for me."
Zheng held serve in the first game of the match, but from that point Henin looked anything but a player coming back after 18 months off the court.
There was a steady stream of passing shots off the Henin forehand that Zheng was powerless to combat, the Belgian hitting 23 winners to three.
"I promise it was not the match I expected," Henin said.
"I knew she had played a great tournament."