MELBOURNE, Jan 26, 2010 (AFP) - - Wildcard Justine Henin overcame a determined Nadia Petrova 7-6 (7/3), 7-5 to reach the semi-finals of the Australian Open in her first Grand Slam since making a comeback.
The win kept alive Henin's dreams of emulating countrywoman Kim Clijsters, who won the 2009 US Open on her comeback, and vindicates her decision to return to a sport she left in May 2008 while world number one.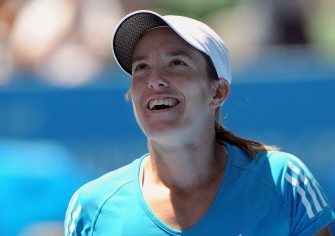 Justine Henin smiles as she celebrates her victory over Nadia Petrova of Russia in their women's singles quarter-final match on day nine of the Australian Open in Melbourne on January 26, 2010. AFP photo
Henin, granted a wildcard to play here, has struggled through long matches in her last three rounds, defying her aching body and an injured left thigh to reach the last eight.
"It was difficult to find the energy," she conceded.
"But I was happy the way I came back in the second set by playing much more aggressive tennis."
By contrast Petrova has been in excellent form, highlighted by her 52 minute thrashing of Clijsters in the third round and her win over third seed Svetlana Kuznetsova in the fourth.
There was little between the two players as they went shot for shot on a hot day on the Rod Laver Arena
Henin took the early advantage when she broke Petrova in the fifth game, seizing on three double faults to go ahead 3-2.
Petrova broke back three games later but promptly lost her serve, leaving Henin to serve for the first set.
She was unable to do so as Petrova attacked, but the Belgian played a brilliant tiebreaker, opening a 6-1 lead and taking the set in 55 minutes.
The loss of the first set fired up the Russian and she skipped out to a 3-0 lead in the second, breaking Henin twice in the process.
However, the 27-year-old Henin is a renowned fighter and clawed her way back to get the set on even terms.
Then at 5-4 and Petrova serving, Henin attacked again and the Russian faltered, sending a backhand long and ensuring Henin's passage to the final four.
"I saw my opportunity -- I didn't want it to go to a tiebreak," she said.
"I wanted to close out the match and stay in the tournament so I just went for it."