LONDON, June 24, 2010 (AFP) - Papers in England breathed a sigh of relief Thursday that their football team had escaped a humiliating early exit from the World Cup, but were dismayed their next match was against old foe Germany.
England qualified for the last 16 in South Africa with a 1-0 win over Slovenia Wednesday, finally bringing their campaign to life at the third attempt and emerging triumphant from the make-or-break clash.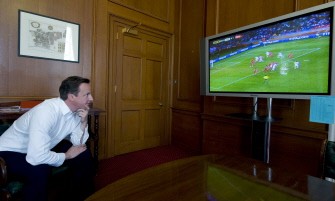 A handout image obtained on June 23, 2010, in London, shows British Prime Minister David Cameron watching England's game against Slovenia inside 10 Downing Street. AFP
Commentators gave the performance a cautious thumbs-up, and seemed relieved that the team was getting their campaign back on track after lacklustre performances against the United States and Algeria.
"This was much, much better," said the Guardian daily, adding: "England finally sent a football team to a match in South Africa instead of a coachload of ghosts."
The Sun commented: "From the dismal efforts of the first two matches, our lads were transformed as they clinched the crucial victory against Slovenia."
Searching for what had spurred the team's turnaround, many focused on the fact coach Fabio Capello had given his players permission to indulge in a relaxing beer on the eve of the game.
"Fabio got De Beers in," quipped the Sun, who labelled the Italian's approach a "beer we go tactic."
"England get thirst for revenge," said The Times, saying the side's progress had been "inspired by a few drinks the night before."
But the joy for England's football pundits was short-lived, being quickly replaced by a sense of deep foreboding ahead of Sunday's clash against arch-rivals Germany.
"Herr we go again," said the Sun, amid a slew of headlines announcing the looming clash with England's footballing nemesis such as "Bring on the Germans" and "Old foes await."
It will be the fifth time the bitter rivals have met in the World Cup finals, with Germany having won the last clash in 1990.
"Of course, inevitably, didn't we all just know it: here come the Germans again," said The Times.
"Who said it paid to turn up fashionably late?
"England finally arrived at the third time of asking, only to discover that their belated entrance had put them on dates with Germany, Argentina and a whole lot of history."
It was not all doom and gloom, however, and there were many who were rubbing their hands with glee at the prospect of facing the Germans.
"There are few things that get English blood pumping more than a meeting with their Teutonic friends at a World Cup," said The Times.
The Telegraph was also looking forward to the clash: "A World Cup nemesis in 1970 and 1990 reappear after another 20 years, giving England a chance to settle a famous score in Bloemfontein on Sunday."