BERLIN, March 13, 2010 (AFP) - Rock-bottom Bundesliga side Hertha Berlin slipped closer to relegation on Saturday after suffering a 2-1 home defeat to fellow strugglers Nuremberg who grabbed an injury-time winner.
Berlin, who remain five points adrift, had taken the lead when their Greece striker Theofanis Gekas scored only his third goal of the season just before half-time before Nuremberg hit back with two second-half goals.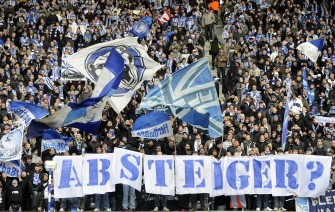 Hertha BSC fans cheer with a banner reading "Relegation?" ahead of the Bundesliga football match Hertha BSC vs FC Nuremberg on March 13, 2010 in Berlin. AFP PHOTO
"What the team produced in the first 45 minutes was very good," said Hertha coach Friedhelm Funkel, whose side out-played their rivals.
"If you don't take those gold-plated chances which we had, then you are punished."
Nuremberg, who shocked title-contenders Bayer Leverkusen 3-2 last Sunday, drew level when Swiss striker Albert Bunjaku netted with a header on 61 minutes before Greek striker Angelos Charisteas scored the winner in stoppage time.
"Hertha were outstanding in the first half and only our goalkeeper Raphael Schaefer kept us in the game," admitted Nuremberg coach Dieter Hecking.
"Without him, it would have been a debacle and only after the break did our play improve."
Their second straight wins lifts Nuremberg up to 15th in the table and out of the relegation zone.
With Schalke 04 taking over as league leaders on Friday night after a 2-1 win over Stuttgart, Bayern Munich can regain top spot if they beat Freiburg later Saturday.
Dortmund moved up to fourth and picked up their second straight win with a 4-1 victory at Bochum.
Argentina striker Lucas Barrios landed the hammer blow for Dortmund when he scored twice in three minutes midway through the second-half.
Wolfsburg picked up their fourth-straight league win under caretaker manager Lorenz-Guenther Koestner when they hammered Moenchengladbach 4-0 to go eighth.
Hanover picked up their second consecutive win under new coach Mirko Slomka with a 2-1 win over Eintracht Frankfurt to go 16th.
Third-placed Bayer Leverkusen need to beat Hamburg on Sunday to get their title hopes back on track after last weekend's shock loss to Nuremberg while Bremen are at Hoffenheim.
On Friday, former German international striker Kevin Kuranyi grabbed a 55th-minute winner to put Schalke top, sealing a 2-1 win against Stuttgart.
It was Schalke's third successive win and their eighth at home this season while Kuranyi's timely strike was his 14th of the campaign.
Schalke, coached by Felix Magath, are trying to win a first league title since 1958 while Stuttgart suffered only their second defeat since former Tottenham boss Christian Gross took over in December.
"We are the leaders, but that's not the most important thing," said Magath whose side face Hamburg, Bayer Leverkusen and Bayern Munich in succession.
"We will talk about our ambitions after our match against Bayern, who are the title favourites, on April 3," added Magath, who led Wolfsburg to the championship last season.