GUANGZHOU, China, Nov 19, 2010 (AFP) - Defending men's badminton champion Taufik Hidayat crashed out of the Asian Games Friday as China's formidable gold medal tally soared even higher.
On Day 7 of the world's biggest multi-sports event after the Olympics, the hosts built their title success to 112 ahead of South Korea on 37 and Japan on 22.
With more than a week still to go, they are poised to smash through their all-time Asiad record of 183 golds achieved at the 1990 Games in Beijing.
Their chances of glory on the badminton courts improved when a subdued Hidayat, Indonesia's biggest sports star, fell in the quarter-finals, meekly bowing out to South Korea's Park Sung-Hwan 21-15, 21-16.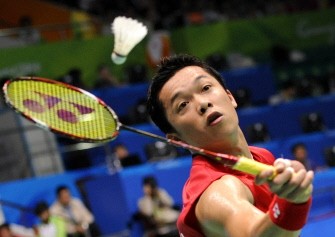 Taufik Hidayat of Indonesia returns a shuttlecock against Park Sung-Hwan of South Korea during their men's singles badminton quarterfinals on November 19, 2010. AFP
"I had a bad game. I don't want to give any excuses for why I lost. I just lost," said Hidayat.
"I don't feel anything right now."
The world number three's demise opened the door wider to Chinese heartthrob Lin Dan to add a maiden Asian Games title to his Olympic and world crowns.
Lin plays Vietnam's Nguyen Tien Minh in an evening match.
His main obstacle is likely to be Malaysian world number one Lee Chong Wei, who breezed into the last four with 21-12, 21-17 mauling of Thailand's Boonsak Ponsana.
"It was just an average performance," said Lee, who has been struggling with injury.
"The last time we played my weakness was at the net, so I improved on that."
China's Chen Jin faces Taiwan's Chou Tien-chen in the other quarter-final.
The women's singles quarter-finals are also being played, while China is guaranteed gold in the women's doubles final with Wang Xiaoli and Yu Yang facing teammates Tian Qing and Zhao Yunlei.
The Chinese are also targetting glory at the table tennis, where they are a dominant world power.
The top two men's doubles seeds, Wang Zhao and Zhang Jike and Ma Lin and Xu Xin, face teenage opposition in their semi-finals and should comfortably make it an all-China decider.
It is a similar scenario among the women, where top seeds Ding Ning and Liu Shiwen are in action.
Meanwhile, two super-heavyweight world champions lock horns on the final day of weightlifting.
With Iran's Hossein Rezazadah, perhaps the greatest lifter of all time, now retired, the men's +105kg title is wide open with current world champion Behmad Salimikordasiabi of Iran the favourite.
His main threat is 2009 world champion An Yong-Kown of South Korea.
Elsewhere, a small piece of history will be made with the women's cricket final being played.
The sport is making its Asian Games debut and Bangladesh meet Pakistan to see who is remembered as the first winner.
"We have a plan, but I won't tell you what it is," said Bangladesh coach Rai Choudhury, who is looking to steer the country to its first Asiad gold medal in any sport.
"I'll just make sure my team is confident and tell them to believe in themselves."
The baseball title is also at stake with powerhouse South Korea looking to claim their third Asian Games title by beating Taiwan.
Other medals will be won in synchronized swimming, billiard sports, xiangqi chess, BMX biking, dragon boat, fencing, rowing, shooting, taekwondo and soft tennis.