The Vietnam Football Federation (VFF) and the country's 14 V-League clubs agreed Sep. 29 to set up a Vietnam Professional Football Company to operate the nation's premier league, starting next year, instead of the federation that has run it for 11 years.
The historic change came after the owners of six topflight V-League clubs Wednesday submitted their petition to VFF calling for the establishment of a share holding company to run the league, while the football governing body was hoping to retain its own organizing panel.
However, during Thursday's meeting between VFF and the bosses of the 14 V-League clubs and 14 first-division clubs in Hanoi, the body agreed upon a league operating company before the new season starts in January.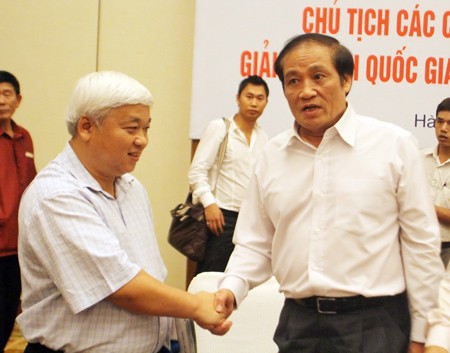 Vietnam Football Federation president Nguyen Trong Hy (R) shakes hands with Hanoi ACB chairman Nguyen Duc Kien during Thursday's meeting in Hanoi. The latter is the one who wrote a draft to set up a Vietnam Professional Football Company. (Photo: SGGP)
"Vietnamese football is facing big challenges as it needs a professional league amid current difficulties," VFF president Nguyen Trong Hy said, adding that it was time to make major changes.
The Vietnam Professional Football Company will be established with capital of VND21 billion (slightly more than US$1 million), with every V-League club contributing VND1 billion, and VFF responsible for the balance. This means the body would hold a 36.5% stake.
The participating bosses asked the body to make more changes so that both the league and first division could attract more spectators.
The six topflight V-League clubs that had petitioned a Vietnam Professional Football Company were Dong Tam Long An, Hoang Anh Gia Lai, Hanoi ACB, Vissai Ninh Binh, Khatoco Khanh Hoa and Lam Son Thanh Hoa.

V-League 2002 will kick off on January 1 and finish in late June.