The 6th WTF World Junior Taekwondo Championships will be held in Ho Chi Minh city on July 26 - 30, 2006. Over 2,400 officials, refereers and players from more than 80 International Taekwondo Federations, WTF's member nations, will gather in Ho Chi Minh city for one of WTF's most important events in 2006.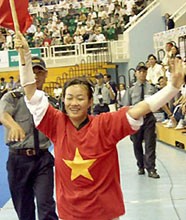 Huyen Dieu won the gold medal for Viet Nam Taekwondo at the 23rd SEA Games
The Martial Arts Association of Ho Chi Minh city under the permission of the World Taekwondo Federation (WTF), Viet Nam Sport Committee and Ho Chi Minh City Sport and Culture Department is the host site for the event.
This championship of Taekwondo sport is a world event organized in Viet Nam. That is to say Viet Nam taekwondo in specific and its sport in general have established the reputation worldwide when Viet Nam has come over the United States at the vote rate 70 over 40.
"One thing should further be proudly said is that Viet Nam, thought of a safe destination to come, really attributes to its absolute victory in the race of being selected the host country for such WTF's elite championship," said Mr. Truong Ngoc De, the Secretary Genaral of Viet Nam Taekwondo Federation.
The WTF championship
The 6th WTF World Junior Taekwondo Championship -Ho Chi Minh city 2006 will be financially sponsored by the WTF's global partner, Samsung Electronics. Under the four year contract lasting through the end of 2008, Samsung Electronics will secure the advertising and sponsorship rights for WTF's events. Wireless communications equipment, mobile phones, video and audio electronic equipment are among Samsung's advertising products for the championship.
To the host side, the organizing committee will be granted VND200 million from Viet Nam Sport Committee.
Up to now, grounded preparations such as accommodation, transportation, competition and training halls, service staffs and volunteer force, and public relation activities have initially prepared for the first observation visit to the host city, Ho Chi Minh city, made by WTF's officials on 11 January 2006.