Tran Binh Su knew next to nothing about the Xiangzue Sun Hei team from Hong Kong so Hoa Phat Ha Noi's tactician went along to Hang Day Stadium yesterday to watch his team's next opponents as they practiced for the Asian Federation Cup clash this evening.
His verdict? "They look mighty tough".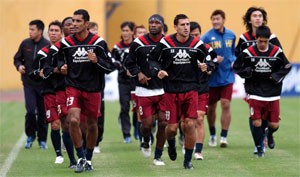 Xiangzue Sun Hei team practices in Hang Day Stadium in Ha Noi
The visitors, who are coming third in Hong Kong's top football league, gained three points by defeating Maldives Victory SC 2-0 in their opening Group O Asian Federation Cup match.
That's why a draw with the home team will be considered a win for Xiangzue Sun Hei, so the pressure is really on Hoa Phat Ha Noi. But coach Vuong Tien Dung is undaunted and feels sure his boys are up to it.
In this evening's match, Hoa Phat Ha Noi's senior striker William Santos will work with fellow striker and team captain Das Silva while Alphonse will either work with Tien Dung in defense or play center mid-field next to Van Hien.
Hoa Phat Ha Noi will have to make do without Ngoc Tu, who was injured in the game against Nam Dinh. Coach Tien Dung is hoping his team will put on a good showing before an international audience and promises they will give their all.
The match will be live broadcast on Vietnam Television.